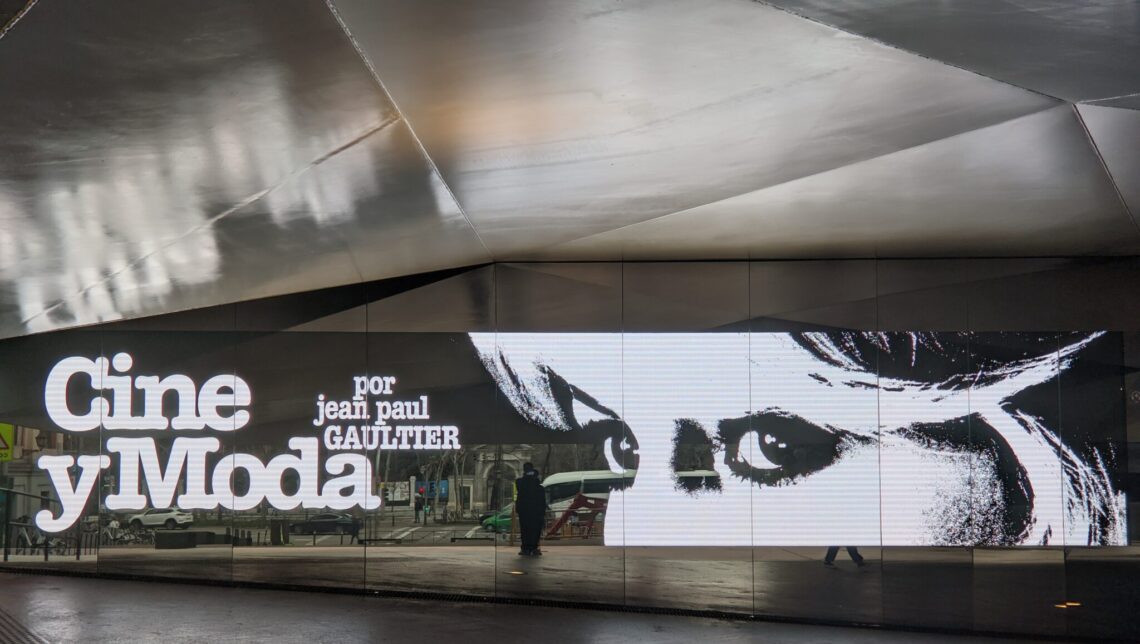 Smaller Can Be Better — Art Venues in Madrid 2022
Sometimes a one-hour visit to a museum fashions the perfect art experience, and one great destination where you may choose to appraise this theory is Madrid. We recently visited three art spaces centrally located in the capital of Spain that offer you surprisingly high-quality alternatives to the Big Three museums… without crowds and highly-priced tickets.

Museo Sorolla
The Sorolla Museum features paintings by the artist Joaquín Sorolla y Bastida (1863 — 1923). Sorolla excelled in painting monumental works of art with social themes (such as the 14 murals on display in the Hispanic Society of America in Manhattan, USA) as well as landscapes and portraits.
Madrid's Sorolla Museum was originally the home of the artist, his wife and their three children. It was converted into a museum following the death of his widow, Clotilde García del Castillo.
The large, well-lit room where dozens of canvases are now displayed formerly served as the artist's studio.
Joaquín Sorolla was born in Valencia and he is famous for his adroit representation of sunlit water and the brilliant daylight typical of his native region, where he received his introductory art education at the age of nine. He traveled to the Museo del Prado in Madrid at age 18 to study master paintings, and at age 22 began four years of training at the Spanish Academy in Rome. Sorolla returned to Valencia in 1888 to marry Clotilde, and when their first child was born in 1890 the family moved to Madrid.
The upstairs rooms are now used for the presentation of well-curated special, temporary exhibitions.
The downstairs rooms continue to be furnished as they were when Sorolla lived and worked here.
Sorolla & Luminism
Should you need an additional reason to visit the Sorolla Museum, consider the lovely sense of light which envelops the house and emanates from many of the canvases. Even though numerous art historians would simply lump Joaquín Sorolla in with the Impressionists, we believe it is far more accurate to associate Sorolla's particular style with European Luminism or Valencian Luminism: a neo- or late-Impressionist movement which devoted great attention to the effects of light.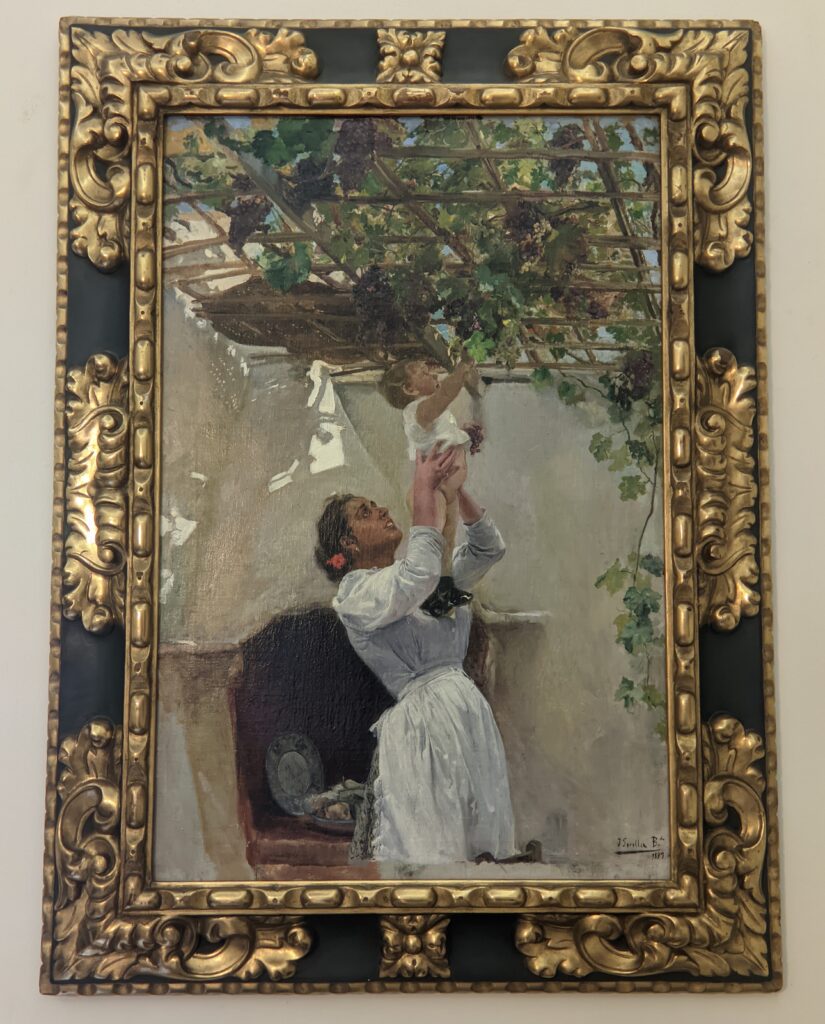 The term "luminism" in art was first used in a 1954 article by the historian John I. H. Baur to describe a unique style of seascape and landscape painting that emerged in the United States from the 1850s to the 1870s — an offshoot of the Hudson River School. Therefore "American Luminism" preceded French Impressionism and the artists most central to the development of this luminist style include Martin Johnson Heade, Sanford Gifford and Fitz Henry Lane.
Unlike Impressionism, American Luminism is characterized by attention to detail and the concealment of brushstrokes. Whatever terminology one chooses, it is certainly accurate to describe Sorolla as one of the great Painters of Light.
One reason we have chosen to highlight the Sorolla Museum for your pleasure is the fact that the original home decor remains intact. The well-preserved decorations and furniture were chosen by Sorolla himself. The building contains numerous masterpieces and certainly ranks among the best preserved artist's homes in all of Europe.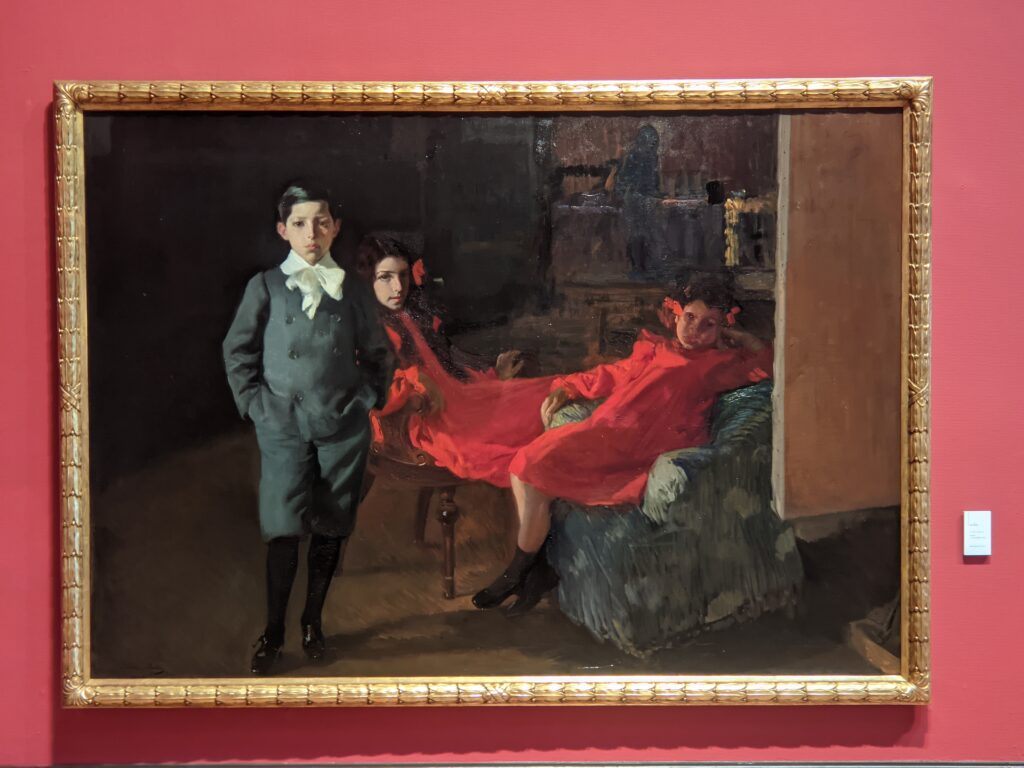 The Sorolla Museum is normally open from Tuesday through Sunday; closed on Mondays. The price of admission is 3 euros. By Metro, take the #1 train in the direction of Pinar de Chamartín to "Iglesia" station. For additional images from the previous exhibition entitled "The Blissful Age. Childhood in Sorolla's Painting" please scroll down to the bottom of this article — where you will also find information on the current special exhibition "Sorolla in Black," which closes on November 27, 2022.
Fundación MAPFRE
A second outstanding venue for art can be found at the MAPFRE Foundation's "Sala Recoletos" exhibition hall at Paseo de Recoletos, 23 in Madrid — an easy and pleasant 10-minute walk from The Prado and Thyssen-Bornemisza Museums.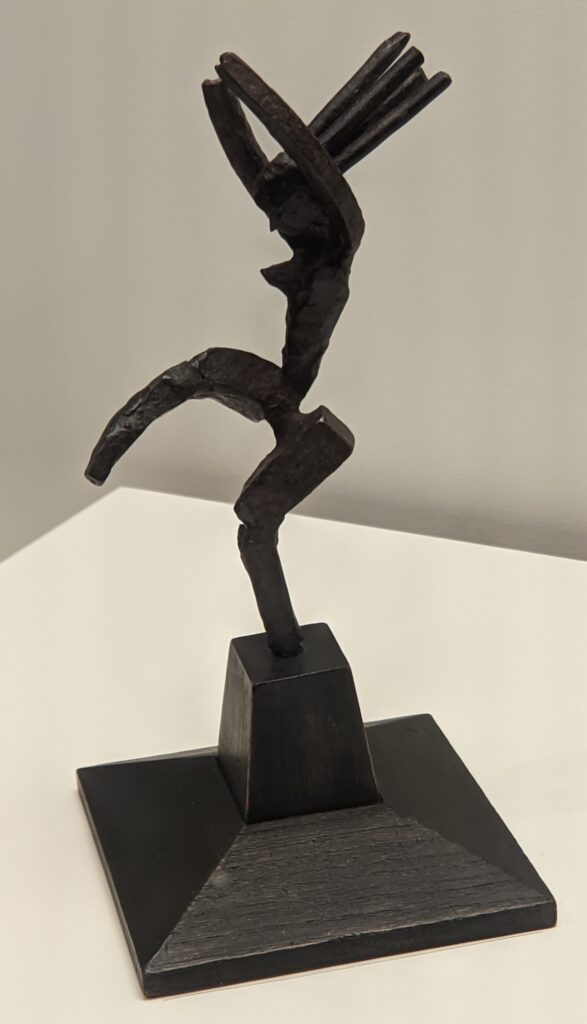 The star of MAPFRE's current exhibition is Julio González (1876 — 1942), a painter, ironsmith and sculptor who befriended Pablo Picasso at the Catalan cafe "Els Quatre Gats" in fin-de-siècle Barcelona. During this period (late modernisme), Picasso was age 17, González was five years older, and the cafe/bar was the setting for various artistic debates which had a significant impact on their respective careers and on those of other artists of their generation, such as Joan Miro, Isidre Nonell, Joaquim Mir and Pablo Gargallo. It should be mentioned that craft skills associated with construction and interior design (including a revival of using wrought iron in the decorative arts) flourished at this time with the emergence of modernista architecture.
Isidre Nonell, Juan Gris & Pablo Gargallo
Julio González
González's grandfather was a goldsmith in Galicia. His father was a metalsmith who owned a workshop where Julio, as a young boy, learned the techniques of silver, gold and iron metalwork. Julio's mother also came from a long line of artists.
Picasso & González's Collaboration in Paris (1928 — 1932)
In 1928, Pablo Picasso conceived of creating a transparent, iron sculpture, so he turned to his old friend, González, "in whose hands metals became as malleable as butter," according to Picasso. With González's technical mastery, Picasso was able to learn about the process of iron smoldering (that is, the potential wrought iron held for him as a sculptor), while creating Woman in the Garden (above), one of the most important sculptures of the 20th century. For González this was his opportunity to take what he valued most from Cubism and make it his own (see The Harlequin, below) by producing a series of dematerialized sculptures that would nurture and sustain his focus an an artist until his death in 1942. Through this mutually fruitful collaboration, abstraction was introduced into sculpture, thus earning Julio González posthumous recognition as one of the fathers of abstract iron sculpture.
Pablo Picasso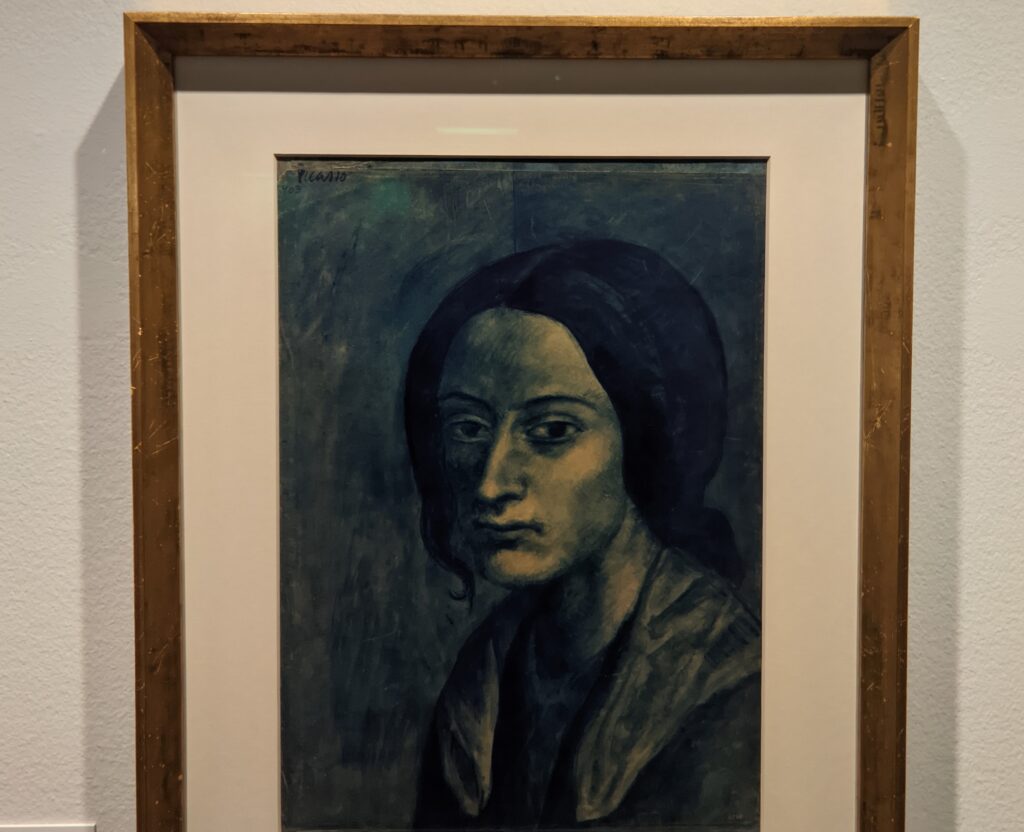 The Barbarity of the Spanish Civil War (1936 — 1939)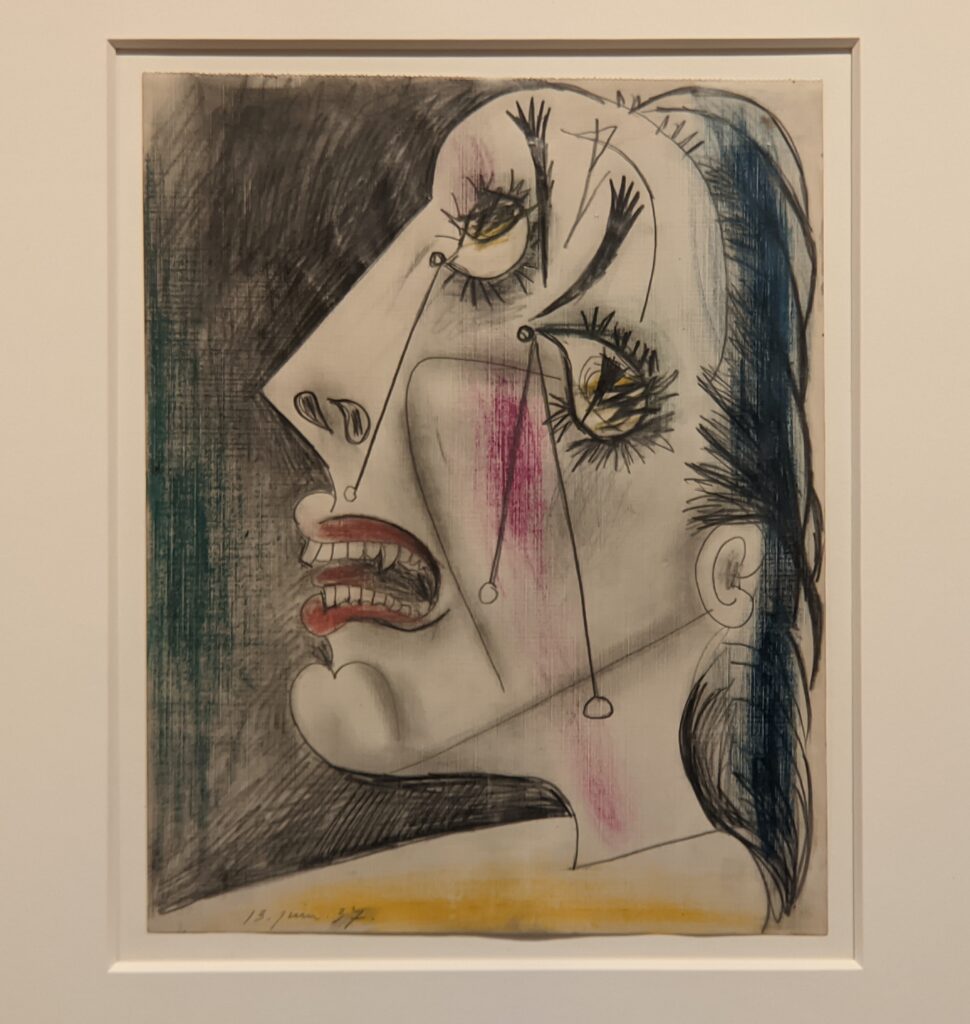 The exhibition entitled "González-Picasso and the Dematerialization of Sculpture" is on view from September 23, 2022 until January 8, 2023. This show is a triumph. Do not miss it.
A second show at the Fundación MAPFRE featuring the photographic work of Ilse Bing will also close in Madrid on January 8, 2023. Ilse Bing (1899 — 1998) was a German avant-garde photographer who produced pioneering monochrome images (below) during the period between World War I and World War II. This exhibition may be seen in Barcelona from February 15 — May 14, 2023 at MAPFRE's Centro de Fotografía KBr.
FUTURE EXHIBIT — The Surrealist Art of LEONORA CARRINGTON will visit MAPFRE Madrid — February 9 to May 7, 2023
CaixaForum Madrid
Another notable center of culture in Spain is the CaixaForum Madrid, located at Paseo del Prado, 36, equidistant from the Prado and Reina Sofia Museums.
On the grounds of an old power station, the design firm of Herzog & de Meuron constructed this interesting sociocultural center between 2001 and 2007.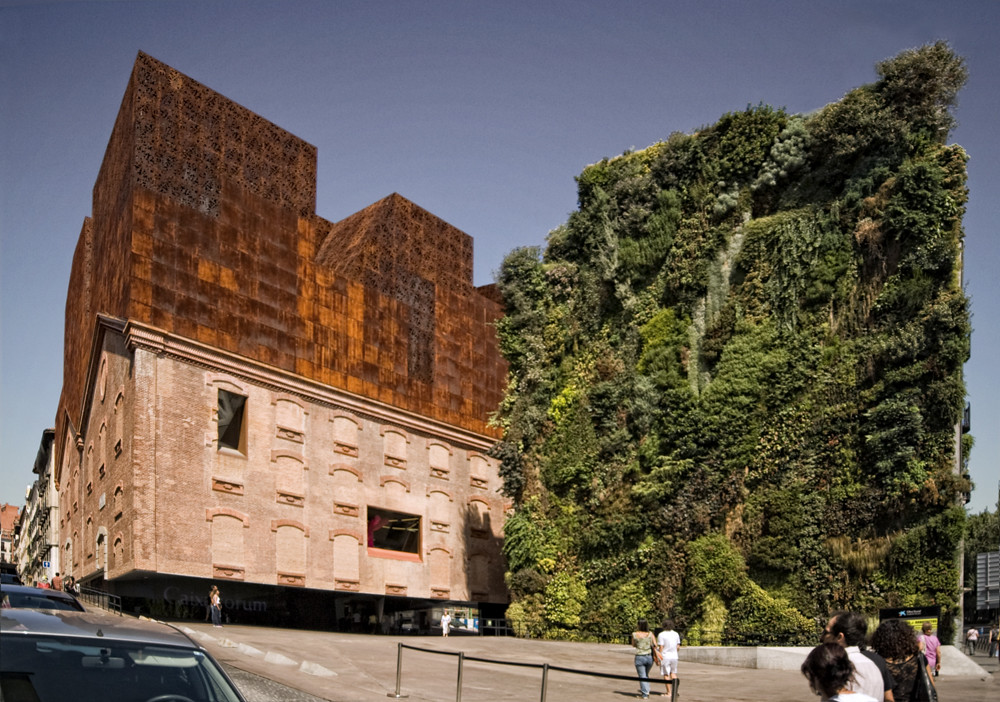 Cinema & Fashion
Boasting architectural innovations unlike any museum you have ever seen, the CaixaForum (sponsored by Caixa Bank) opened in 2008 and has presented poetry, dance and music festivals in addition to multimedia art from ancient to contemporary times, including "Cinema & Fashion by Jean Paul Gaultier" from February 18 through June 5, 2022.
This exhibition was dazzling, irreverent and a lot of fun. After its debut in Madrid, the show was on view at CaixaForum Barcelona from July 12 — October 23, 2022.
Tattoos for You to Admire at the CaixaForum Madrid & Barcelona
A second exhibition on tattooing was on view at the CaixaForum in Madrid and Barcelona through August 28, 2022.
The ancient art of crafting tattoos modifies the human body by inserting ink, pigments and/or dyes into the dermis layer of the skin in order to form designs.
"TATTOO — Art Under the Skin" closed at CaixaForum Barcelona on August 28, 2022
CaixaForum is open daily from 10:00 am to 8:00 pm (20:00) and one may visit all exhibitions for the price of 6 euros (with free admission for customers of La Caixa).
Previous Exhibitions at MAPFRE & the Sorolla Museum in Madrid
"The French Taste," an exhibition exploring the evolution and influence of French culture in Spain from the 17th through 19th centuries, was presented in Madrid through May 8, 2022 at the Fundación MAPFRE — here are some of the highlights from "The French Taste".
"Little Ophelia" (1875) by William Bouguereau (above) and "The Daughters of the Duke of Montpensier" (1861) by Alfred Dehodencq (below) were among the 45 paintings, 8 sculptures, 16 drawings and 31 pieces of decorative arts on display in the French exhibition.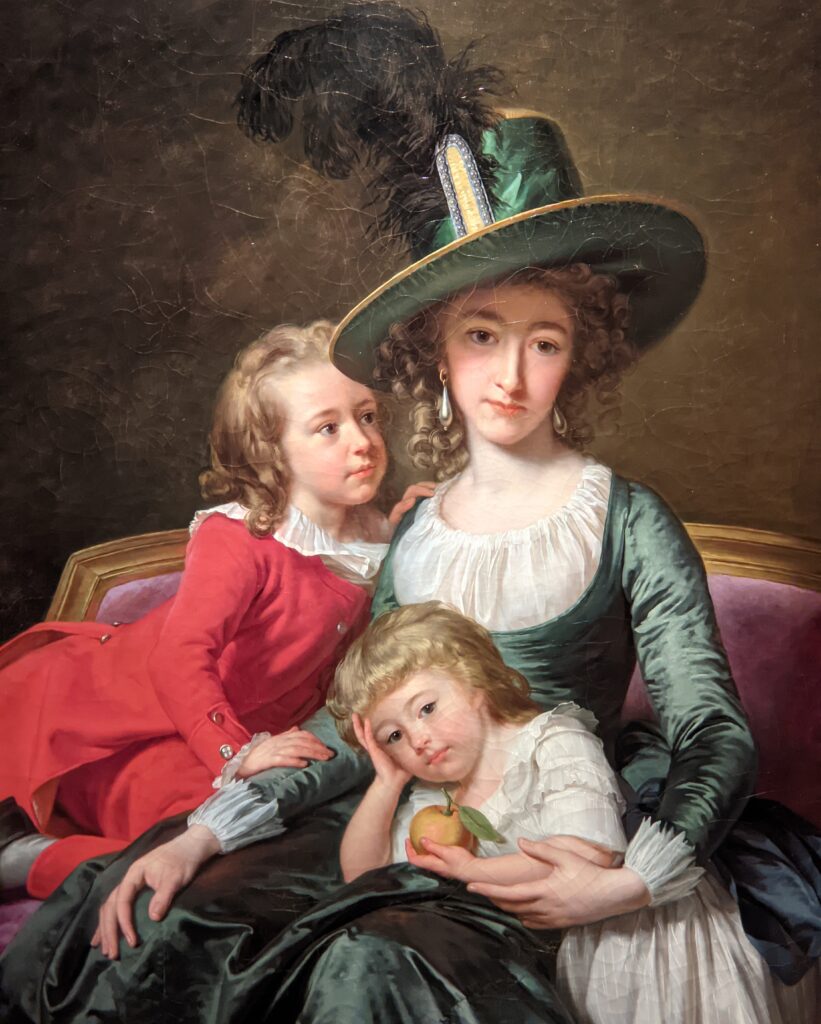 "The French Taste" closed in Madrid on May 8, 2022
"The Blissful Age. Childhood in Sorolla's Painting" was held from February 1 — June 19, 2022 at the Sorolla Museum in Madrid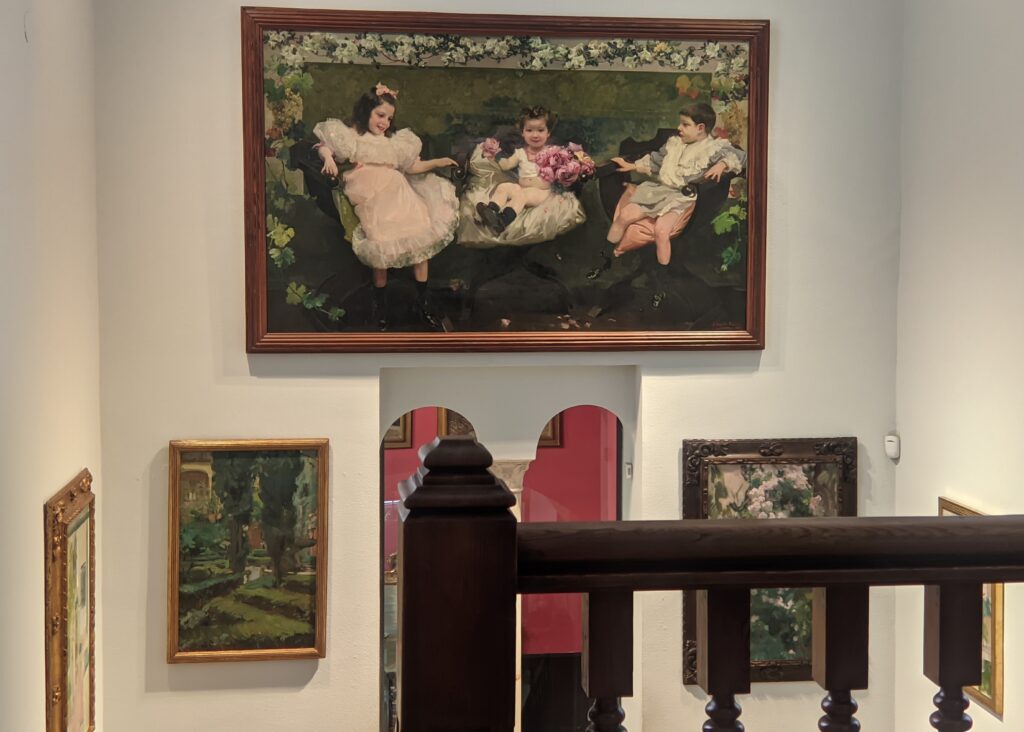 As you ascend the stairs to the upper level of the Museo Sorolla, you will notice that Sorolla was adept at capturing the personalities of children on canvas — a pictorial sub-genre that had particularly flourished from the late 18th century onwards.
Special Exhibition
Images from "The Blissful Age" (below) afforded museum visitors a rare opportunity to learn about Sorolla's son and two daughters, and to appreciate commissioned portraits of children from the upper classes and aristocracy.
Current Exhibition at Museo Sorolla
The exhibition "Sorolla en Negro" is on view at the Museo Sorolla through November 27, 2022. Black was not considered as a color in Sorolla's day, even though it does possess a luminosity of its own. In the late 19th century black functioned as an intense plane that heightened colors. This temporary show features the art of Sorolla (1863-1923) and how he used black to convey seriousness in subject matter and emphasize contrasts of light.
We hope you found this article informative, and you will choose to visit the Museo Sorolla on a sunny day in the future to enjoy the lovely Andalusian-style garden (pictured below) designed by Joaquín Sorolla.