Morozov Collection — The Best Art in Paris at Fondation Vuitton
Having viewed all the major exhibitions in Paris over the past five years, we feel privileged to have viewed Icons of Modern Art featuring The Morozov Collection from Russia at the Fondation Louis Vuitton. From September 2021 through April 2022, this once-in-a-lifetime exhibition featured 200 masterpieces of modern art from the collection of Mikhail and Ivan Morozov (two brothers born in Moscow in 1870 and 1871, respectively) including three wonderful landscapes (below) by Alfred Sisley (1839 — 1899).
The Morozov Collection — Alfred Sisley
This exhibition in Paris marked the first time the Morozov Collection, established between 1889 and 1914, traveled outside of Russia. We begin with a focus on landscapes because in their youth the Morozov brothers took courses in landscape painting; therefore, they understood the challenges of working with oil paint. That experience certainly informed their taste in fine art, as evidenced by these paintings by Claude Monet (1840 — 1926).
Claude Monet in the Show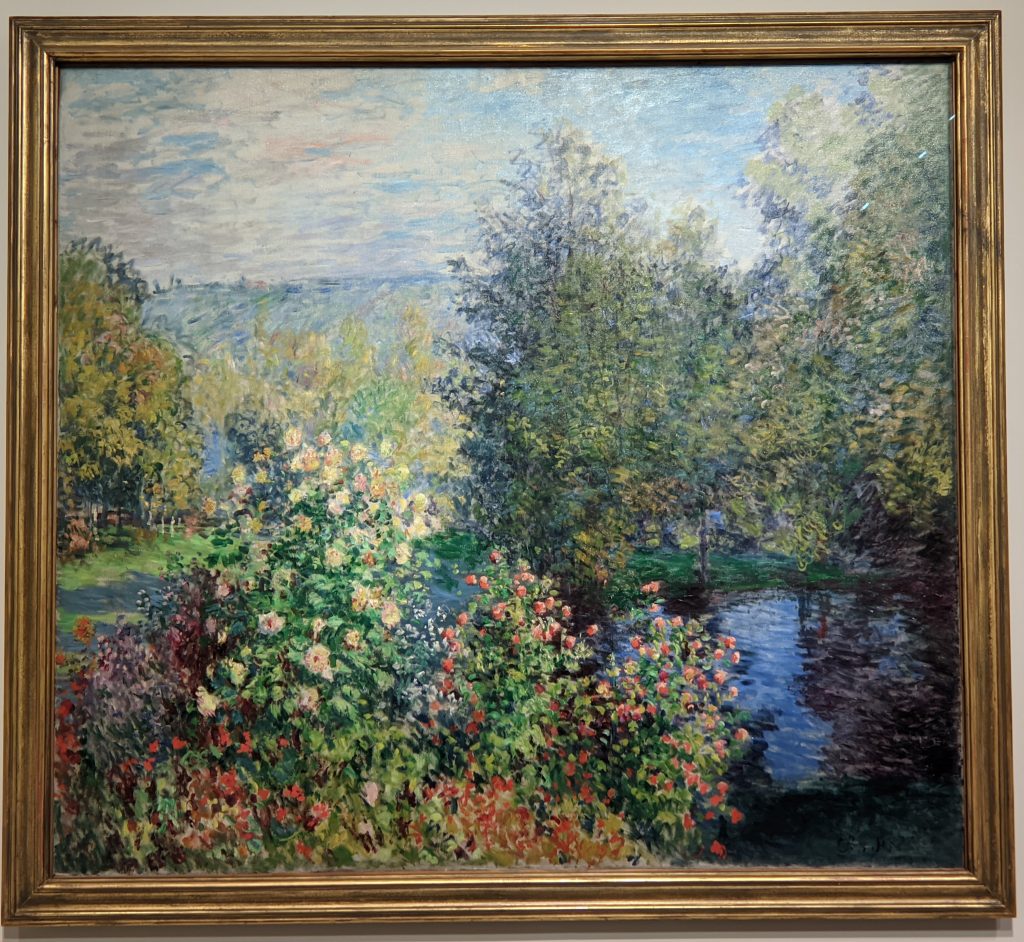 Mikhail Morozov, the elder brother, began collecting first — during the 1890s — buying art from his native Russia and the Impressionists in France, including portraits of the actress Jeanne Samary (below) by Auguste Renoir. When Mikhail died in 1903 — at the age of 33 — his brother Ivan, a textile merchant, began making the 1,800-mile journey to the French capital twice each year to purchase Impressionist, modern and avant-garde works of art.
Auguste Renoir in the Collection
While both brothers acquired works by Monet for their collection (purchasing a total of 19), it was the older brother Mikhail who had an eye for representational pieces by Jean-Baptiste Corot and Auguste Rodin, for example, and Édouard Manet (above). Later, Ivan Morozov added paintings by Ker-Xavier Roussel (below), the Frenchman associated with Les Nabis.
This landmark exhibition is the second in the series entitled Icons of Modern Art, following the Vuitton's presentation of The Shchukin Collection in 2016-17 which attracted a record 1.3 million visitors. After the Bolshevik Revolution in 1917, the Morozov Collection was nationalized and displayed alongside 258 paintings seized from the palatial home of Sergei Shchukin, a cloth merchant. When Alfred Barr, the future director of MoMA, made an historic visit to Moscow in 1927 he was stunned by the quality of French art in the Shchukin and Morozov Collections, which surpassed art shown in Parisian (and all other) museums at that time. Morozov acquired four important paintings of the river Seine (below) by Albert Marquet.
Albert Marquet (1875 — 1947)
Mikhail Morozov grew more adventurous in his choices at the turn of the century, becoming the first Russian collector to purchase paintings by Gauguin and van Gogh, in 1900 and 1901 respectively. When he acquired White Night, Aasgardstrand (Girls on the Bridge), below, in 1903, Mikhail was the only Russian collector of his day to own a work by Edvard Munch, the Norwegian — an indication that Morozov's tastes had expanded beyond Post-Impressionism to include Symbolism and Expressionism.
During his university years in Zurich, the younger brother Ivan became an enthusiastic amateur landscape painter, before returning home to take over the family textile business. While Moscow had been the conservative and religious heart of Russia, the city was changing and had become one of the most dynamic, forward-looking cities in the world before the 1917 Revolution. Ivan Morozov collected nudes by Henri Manguin (below left) and Charles Guérin (below right).
Paul Cézanne & Ivan Morozov
For Ivan Morozov, Paul Cézanne was his most favored painter, and eventually he would own 18 Cézannes (four of which are pictured below).
Ivan Morozov possessed very few still lifes in his collection; however, he would go on to purchase three created by his favorite artist including Still Life with a Curtain (above) knowing that Cézanne held a fascination for the genre.
Van Gogh in the Morozov Collection
While his older brother chose to purchase Vincent van Gogh's Seascape at Saintes-Maries (below left) in 1901, eight years later Ivan selected Vincent's more psychologically revealing The Prison Courtyard, which van Gogh painted during the time he felt "imprisoned" at the asylum in Saint Rémy five months before the artist died from a self-inflicted gunshot wound in 1890. You will notice that the prisoner closest to the viewer resembles van Gogh himself!
Fine works of art by André Derain (below) depicting the drying of sails in Collioure and the mountain roads leading to Cassis were also on exhibit at the Fondation Vuitton, a building located in the Bois de Boulogne and designed by Frank Gehry, which opened in 2014.
In the period 1904 to 1914, Ivan Morozov purchased 240 paintings by French artists; and in addition he strengthened his collection with fine works from Russia's neighbors, including Lake Ruovesi (above) by the most famous Finnish master Akseli Gallen-Kallela, and two pieces (below) by Martiros Saryan, founder of an Armenian national school of modern painting.
Paintings by Paul Gauguin
The Morozov brothers acquired 29 paintings by Paul Gauguin (1848 — 1903), and many paintings from the artist's Tahitian period (below) are of the highest quality. When he set sail for his first trip to Tahiti in 1991, Gauguin's avowed intent was to escape "everything that is artificial and conventional" about European civilization.
Russian Painters / Morozov Collection
Begun in 1889, Ivan Morozov's Collection of Russian modern art amounted to 430 pieces, and included Orchard in Autumn (below) by Natalia Goncharova (1881 — 1962).
Mikhail Larianov was an avant-garde Russian painter and the lifelong partner of Natalia Goncharova. He pioneered the path toward abstraction in his homeland.
Larionov (1881 — 1964) was born in Moldova and died in France.
Konstantin Korovin
Konstantin Korovin (1861 — 1939) was an up-and-coming artist when Varvara Morozova engaged this painter for two years to give weekly lessons to her sons, Mikhail and Ivan. In 1885 Korovin traveled to Spain and France: "Paris was a shock for me," he said, because through exposure to what the Impressionists were achieving "I found everything I was scolded for back in Moscow." Korovin would become a leading Russian Impressionist and, in 1900, he was awarded the Legion of Honor from the government of France.
Ivan Morozov was pleased to buy works by Goncharova, Larionov and Korovin; however, he drew the line at abstraction. Morozov included Kazimir Malevich (1879 — 1935) in his collection, but the Suprematist compositions that made Malevich world-famous proved too extreme for Morozov.
Ilya Mashkov
After viewing this radiant exhibition, one could easily understand why Ivan Morozov would enthusiastically acquire Still Life, Fruit in a Dish (below) by Ilya Mashkov (1881 — 1944). Mashkov's body of work reflects perfectly the color revolution championed by Matisse and Bonnard at the beginning of the 20th century, as well as the artistic innovations of Cézanne.
Morozov Collection & Henri Matisse
The astute collector Sergei Shchukin recognized the brilliance of Henri Matisse even before the artist was at the height of his international acclaim, and in 1910 Shchukin commissioned for his mansion two large decorative panels entitled Dance and Music.
Interestingly, it was Shchukin, Ivan Morozov's influential elder rival, who would introduce Morozov to Henri Matisse (1869 — 1954). While the Morozov Collection contained an impressive 19 Monets, 29 Gauguins and 18 Cézannes (10 more than Shchukin's), Ivan Morozov would ultimately acquire 50 paintings by Matisse.
During a long stay in Tangier in 1912-13, Henri Matisse conceived the Moroccan Triptych, three large canvases (below) commissioned by Ivan Morozov.
Ivan Morozov exhibited great courage through his artistic choices, including his lifelong appreciation of the nude as a genre, evidenced by his collection of sculpture (below) by Sergei Konenkov (1874 — 1971), known as the "Russian Rodin."
Pablo Picasso in the Morozov Collection
To understand succinctly the difference in taste between Shchukin and the Morozov brothers — the greatest Russian patrons of modern art — one need look no further than Pablo Picasso (1881 — 1973). Though Ivan Morozov was the first collector to bring a Picasso to Russia when he purchased the Blue Period The Two Saltimbanques in 1908, he was a reserved man and a methodical connoisseur who would acquire only two other Picassos, Acrobat on a Ball from the artist's Rose Period and Portrait of Ambroise Vollard. Vollard was the gallery owner from whom Ivan sourced much of his French art, and this portrait (below) represents the only purely cubist artwork in the Morozov Collection.
By contrast, Sergei Shchukin enjoyed the challenges presented by the most avant-garde art; he owned 50 choice canvases by Picasso, including many of his earliest Cubist paintings.
Pierre Bonnard
Morozov cherished his Cézannes and loved his Matisses. Pierre Bonnard (1867 — 1947) was another favorite artist of Morozov, and deservedly so.
When Matisse, the leading proponent of Fauvism, was taken to the Phillips Collection in Washington, D.C., and discovered that Bonnard was given more prominence than himself, Matisse commented "… and quite right too. Bonnard is the strongest of us all."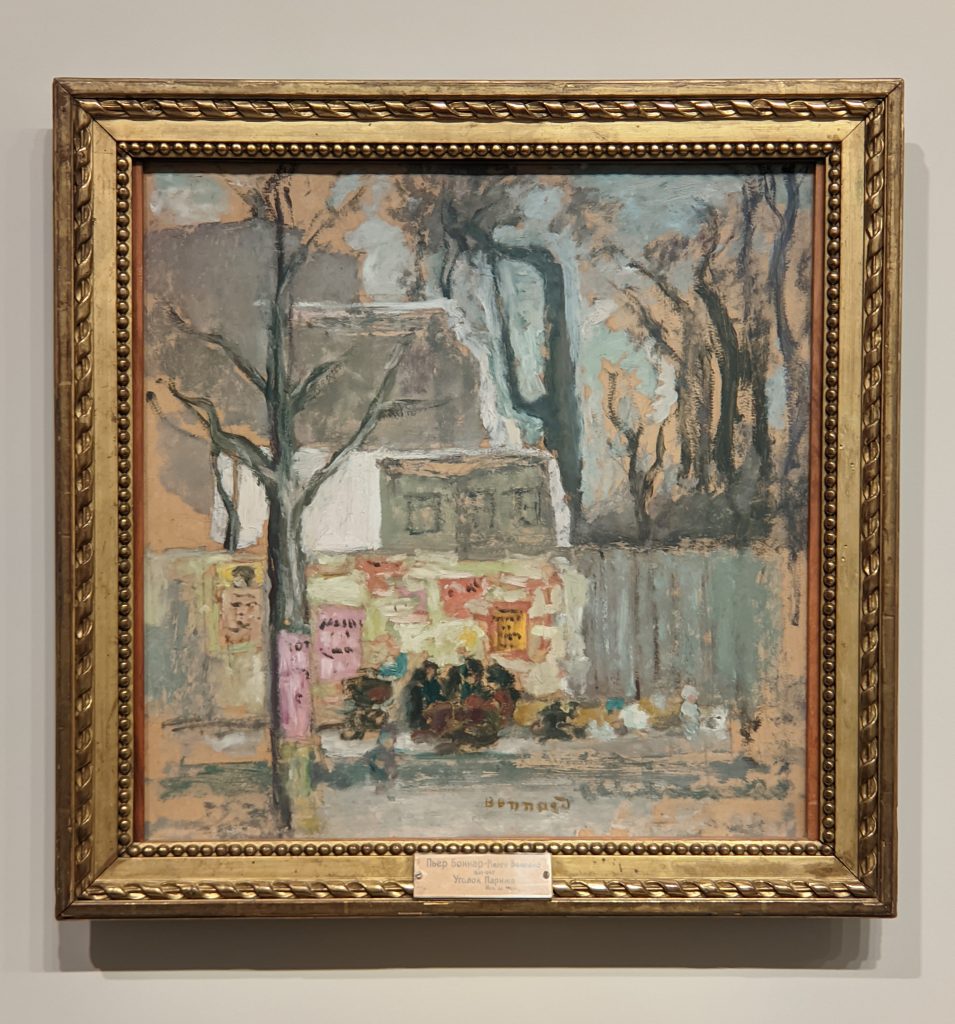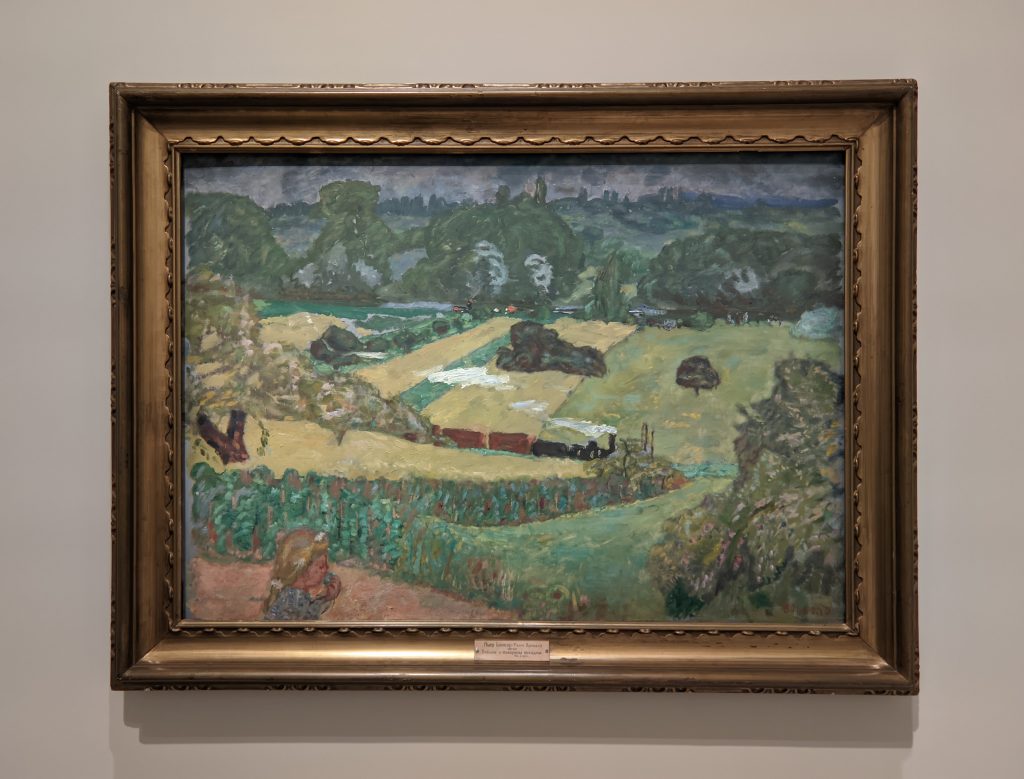 In 1977, a review in The New York Times of a Bonnard exhibition began with the following assessment: "At his best, Pierre Bonnard (1867 — 1947) was one of the greatest painters of all time. In the freedom and audacity of his color, he makes the Fauves look timid."
In 1910, Morozov commissioned Bonnard to paint La Méditerranée (above and below), a triptych, for his Moscow home, where it was prominently displayed above the staircase.
The two textile magnates and visionaries, Shchukin and Morozov, maintained friendly relations when they lived in Moscow, but both would leave revolutionary Russia soon after their collections were nationalized. Morozov passed away in Karlovy Vary in 1921, and his grave is situated in the Czech Republic; Shchukin died in Paris in 1936 and is buried in the Cemetery at Montmartre.
The Vuitton's series Icons of Modern Art reminds us that artistic appreciation and legacies are also affected by affairs of state. In the 1930s and 40s, many of these masterpieces disappeared from public view for decades, and the collections were dispersed "on the basis that the propagation of foreign, bourgeois, formalist art was politically harmful." Art collected by Shchukin and Morozov began to be exhibited again in 1953, following Stalin's death. The three canvases comprising Tryiptyque Marocain by Matisse were finally reunited in 1968 at the Pushkin State Museum of Fine Arts in Moscow and were on display in Paris.
Blockbuster shows such as The Morozov Collection allow us to revisit our favorite paintings created by those recognized as among the greatest, and also to reassess and (in the case of Pierre Bonnard) elevate the artists who 50 years from now will be viewed as equally influential.
We would like to dedicate this article to our dear friend Titika Rapanaki-Bigot, an ardent supporter of the arts. Titika believes, as we do, that art appreciation nourishes the soul. We pray for the day when our shared love of art and respect for various cultures may shepherd all of us toward greater international cooperation and understanding.
If you are interested in the 2023-24 art scene in France, please read our article Paris – The 10 Best Art Museums to see what is currently on view in the top museums.