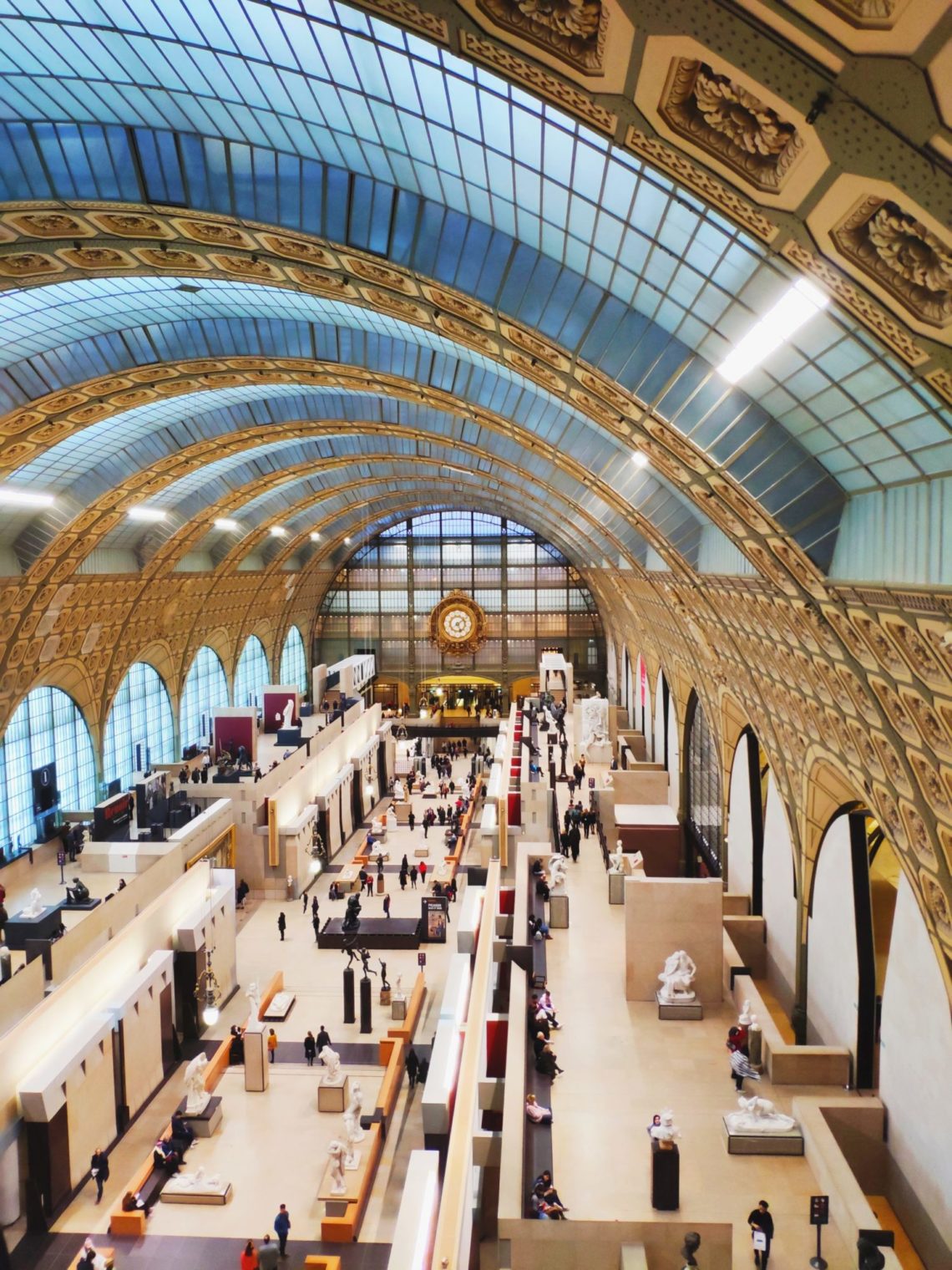 Paris – The 10 Best Art Museums
Within the city limits of Paris, there are around 130 museums. In order to make your journey "magical", we have compiled a short list of the best museums devoted to art and culture in the French capital. Please share with us your opinions regarding your favorite Parisian art museums.
1. Musée d'Orsay
The d'Orsay Museum is perhaps the greatest museum in the world devoted to a particular style of art: primarily sculpture, painting and furniture created in France between 1848 and 1914. Famous for its collection of Impressionist and Post-Impressionist masterpieces, the museum showcases the important 19th Century movements leading up to Impressionism (Romanticism, the Academic painters such as Bouguereau, Cabanel, Ingres and Gérôme, the Barbizon School & Naturalism) and the groups that followed Impressionism (the Pont-Aven School, Symbolism, Les Nabis & Fauvism).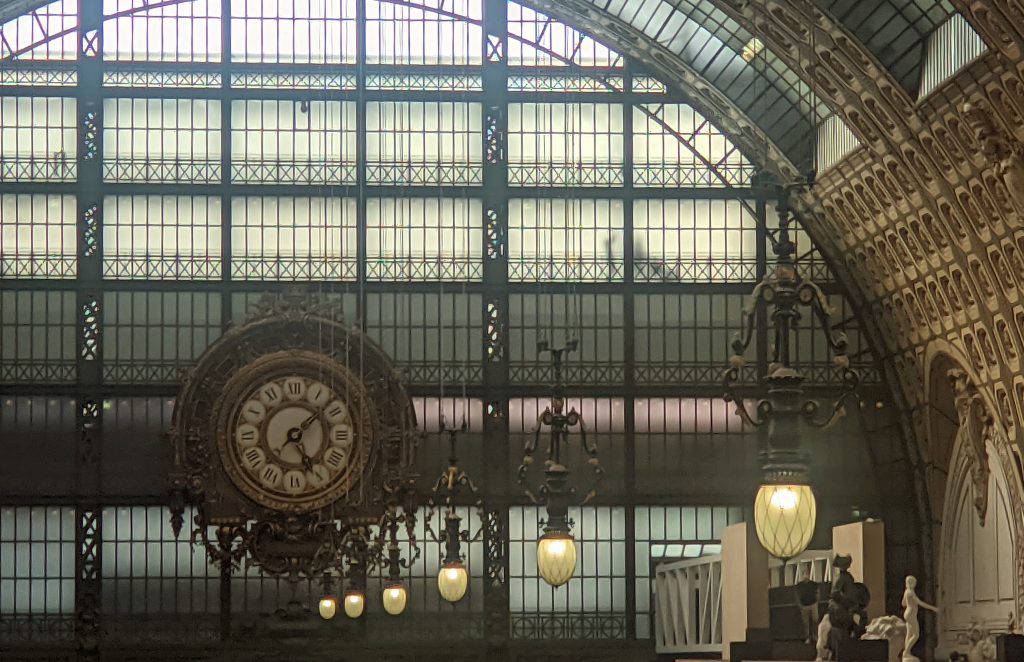 The museum opened in 1986, set inside a Beaux-Arts railway station (completed in 1900). Even if you are not a fan of Impressionist paintings, the hype and a visit are justified: the architecture is stunning, and the transformation from the train station to the art museum is fascinating. Permission was granted to demolish the railroad station in 1970; fortunately, the Ministry of Cultural Affairs turned down plans to build a hotel on this site!
The temporary exhibitions are top-notch, including "Signac the Collector" from October 12, 2021 to February 13, 2022. Paul Signac was a Neo-Impressionist painter who worked with Georges Seurat to advance the movement known as Pointillism.
Paul Signac painted Route de Gennevilliers (above left) in 1883 when he was 20 years old and an admirer of Monet and Impressionism.  Signac met Georges Seurat the following year at the first Salon des Artistes Indépendants.  These two artists had a shared interest in contemporary scientific theses on how the human eye perceives color.  When Seurat finished A Sunday Afternoon on the Island of La Grande Jatte in 1886 by punctuating the painting with small dots of pure color, Signac became a convert to the new style of Neo-Impressionism.  Five years later, Signac became the leader of the Pointillist movement — when Seurat (1859 — 1891) died unexpectedly — and Signac created works such as Saint-Tropez, La Bouée Rouge (above right) in 1895. 
Signac was at the heart of the contemporary art scene in Paris from the 1880s until his death in 1935. He organized many exhibitions, amassed a personal collection of paintings by other artists and embraced other innovative movements, such as Fauvism (1905 — 1910) which emphasized strong color over the more realistic, representational values achieved through Impressionism. As he aged, Signac took a close interest in and supported a younger generation of artists, purchasing, for example, the portrait of the Romanian transvestite renowned for his high voice entitled Modjesko, Soprano (above) by Kees van Dongen. Théo van Rysselberghe presented his Portrait of Paul Signac (below left) to Signac as a gift following a sailing trip. Signac owned more than 80 works of art by Seurat, including Seurat's Portrait of Paul Signac (below right).
Finally the cinema! Arts, Images and Shows in France (1833-1907)
The exhibition Finally the cinema! — on view through January 16, 2022 — examines the dialog between the development of cinematographic images and the history of painting in France from the years 1895-1907. This exhibition has brought together nearly 300 works of art (pictured below), including films, objects, and paintings which were influential in the production of movies.
Future Exhibition at the d'Orsay
From April 12 to July 17, 2022 the d'Orsay and Musée de l'Orangerie will present an important exhibition entitled "Gaudí" — the first major show dedicated to the architect Antoni Gaudí in France in 50 years. This exhibit is organized through cooperation with the Museu Nacional d'Art de Catalunya in Barcelona (where it will be presented between November 18, 2021 and March 6, 2022).
Closed on Mondays. Open Tuesday to Sunday 9:30 – 6:00 (18:00). Open 9:30 – 9:45 (21:45) on Thursdays. Metro # 12 to Solferino is best, or Metro # 1 and # 8 to Concorde.
Art Lovers Tips: Do not miss the furniture and pastels in the Musée d'Orsay. Visit late in the day, especially on Thursdays, or perhaps at lunchtime. Consider buying an annual membership for expedited entry into the d'Orsay and the l'Orangerie.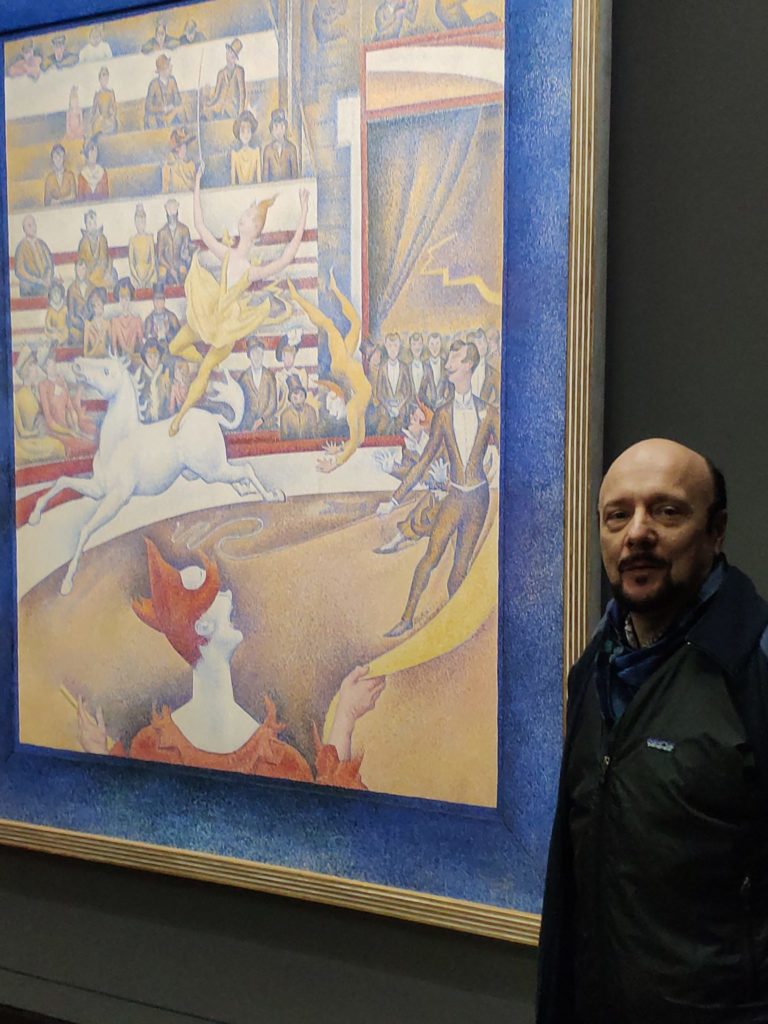 2. Grand Palais & Petit Palais
Grand Palais
The Grand Palais was built at the same time as the Gare d'Orsay to serve as an exhibition hall for the Exposition Universelle (the World's Fair held in Paris from April – November 1900). Nearly 50 million people visited this structure in the year 1900 alone. Famous for its conservatory-style glass roof, the Grand Palais is a masterpiece of Art Nouveau and Classicism. The Grand Palais presents the finest art exhibitions.
EDITOR'S NOTE: The Grand Palais is currently closed for renovation. In addition, please go to the official websites for all museums mentioned in this article since there may be changes in opening hours due to the COVID pandemic, and a health pass or official document showing full vaccination will likely be required for entry.
Closed on Tuesdays. Open Thursday to Monday 10:00 – 8:00 (20:00). Open 10:00 – 10:00 (22:00) on Wednesdays. Metro # 1 and # 13 to Champs Élysées-Clemenceau, or Metro # 9 to Franklin D. Roosevelt.
Petit Palais
The Petit Palais, built in the Beaux-Arts style and possessing a circular central courtyard and garden, is a museum offering free entry to its permanent collection. Admission is charged for temporary exhibits, including: "Painting the Soul of Russia", a retrospective on Ilya Repin, open to the public at the Petit Palais from October 5, 2021 to January 23, 2022. Leo Tolstoy (below left) sat for his portrait in 1887. Repin and Tolstoy, the author of War and Peace and Anna Karenina, supported each other when they encountered similar difficulties with censorship — Repin for his painting Ivan the Terrible and the writer after his play The Power of Darkness was banned in 1886. Included in this exhibition are portraits of Nadia, Repin's daughter, entitled "In the Sun" (below center) and "Natalia Nordman" (below right), Repin's companion for 15 years. Repin also painted the last Emperor of Russia, Nicholas II (1868 — 1918), in military uniform in the Throne Room of the Winter Palace.
Born in Ukraine, Repin became one of the greatest Russian painters of the 19th Century and his international renown brought Russian art into the mainstream of European culture. Repin is mentioned in our article "EXPRESSIONISM – The Best Art on View in Switzerland", because both Marianne von Werefkin and Alexej von Jawlensky traveled to St. Petersburg to study under Repin.
In addition to the Repin retrospective, the Petit Palais is presenting a free temporary exhibition entitled "The Narcissus Theorem," displaying more than 70 new works of art by Jean-Michel Othoniel scattered among the architectural features of the palace and its garden. On view through January 2, 2022, Othoniel has created an enchanting hypothesis about a man-flower who, by reflecting himself, reflects the world around him. This dialogue (photos below) among sculpture, nature and architecture invented by Othoniel represents this artist's largest solo project in Paris since his 2011 retrospective at the Centre Pompidou.
Closed on Mondays. Open Tuesday to Sunday 10:00 – 6:00 (18:00).
Art Lovers Tips: Purchase your tickets in advance to avoid waiting in line for entry into the Grand Palais!
3. Musée du Louvre
The Louvre Museum has fabulous holdings of Western Art – it's the largest museum in the world – and the finest collections of Egyptian, Near Eastern, Greek, Etruscan and Roman antiquities. The Louvre is also the world's most visited museum, receiving more than 10 million visitors a year. Its official website now warns, "Admission without pre-booked tickets not guaranteed". We chose not to describe the Louvre as the #1 Museum in Paris because possessing the greatest collection does not guarantee the most enjoyable experience.
Despite the museum's best efforts (and the gorgeous glass Pyramid opened in 1989) the Louvre is composed of three separate pavilions. You must visit the Louvre. It is amazing, but it can also be challenging – just ask anyone who waited for years to view the Mona Lisa and inquire "Were you satisfied, or disappointed?"
The current special exhibition "PARIS — ATHENS The Birth of Modern Greece, 1675-1919" is on view from September 30, 2021 through February 7, 2022.
Closed on Tuesdays. Open Saturday – Monday and Thursday 9:00 – 6:00 (18:00). Open Wednesday and Friday 9:00 – 9:45 (21:45). Metro # 1 and # 7 to Palais-Royal Musée du Louvre.
Left: 3,000-year-old reliefs from the Assyrian city of Nimrud.
Middle: Renaissance painting.
Right: The Hellenistic sculpture "Winged Victory of Samothrace" .
Art Lovers Tips: Upon arrival inside the Louvre, ask for a museum map, learn which sections are closed that day, choose what you wish to see, and seek advice regarding the most logical itinerary – remember, there are three pavilions. First, head to Near Eastern Antiquities (Mesopotamia, within the Tigris-Euphrates river system) for the best collection within the Louvre and the least touristed! Then, see Michelangelo's Slaves. Finally, mix it up a bit and see something different such as the Apartments of Napoléon III, Egyptian artifacts (spanning 30 dynasties over 3 millennia, the world's largest collection of this type) or African Art (hidden near the Porte des Lions entrance) in the Dept. of the Arts of Africa, Asia, Oceania and the Americas.
Below: Exterior of the Centre Pompidou.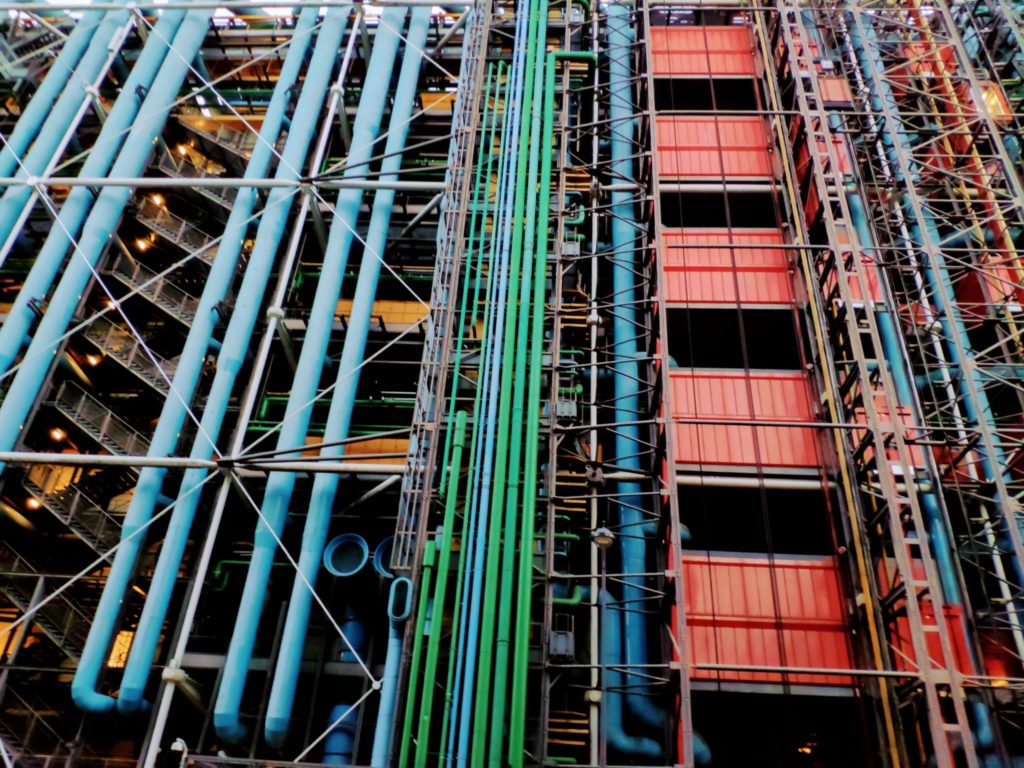 4. Centre Georges Pompidou Musée National d'Art Moderne
To appreciate the Pompidou Center, one must embrace an understanding of urban planning, revolutionary change, and architectural history. Architects Richard Rogers and Renzo Piano's controversial experiment transformed a gritty, rundown section of Paris – the Beaubourg – into an energetic multi-cultural neighborhood open to learning and contemporary art forms. By leaving the building's mechanical and structural systems exposed on the façade, the first important Inside-Out high-tech structure was born in 1977 using more than 15,000 tons of prefabricated steel – and the opposition was fierce. "Paris has its own monster, just like the one in Loch Ness", screamed an article in Le Figaro. When Rogers revealed to a woman passing by the Pompidou that he designed it, she struck him with her umbrella. Later, the jury that awarded Rogers the 2007 Pritzker Prize got it right, noting the Pompidou "revolutionized museums, transforming what had once been elite monuments into popular places of social and cultural exchange, woven into the heart of the city."
Critics may say the Pompidou cannot compare with MoMA in New York and Tate Modern in London; however, we strongly disagree. "Oriental Poppies" (below) from 1927 was on display from September 8 to December 6, 2021, as part of a retrospective devoted to Georgia O'Keeffe.
Acclaimed as the "Mother of American modernism," Georgia Totto O'Keeffe (1887 — 1986) is best known for her paintings of enlarged flowers and New Mexico landscapes. In 1932 the natural formations and organic shapes O'Keeffe encountered along the Gaspé Peninsula in Quebec inspired "Nature Forms — Gaspé" (above), in which the artist presents her perception of nature's essence, rather than its literal form. O'Keeffe created many forms of representational and abstract art, including "Inside Red Canna" (below left) in 1919, that we and many others interpret as metaphors for female genitalia, although O'Keeffe consistently denied such intentions, claiming they were just pictures of flowers.
O'Keeffe made about 200 flower paintings, and one from 1932 was sold at auction for $44,405,000 in 2014 — more than three times the previous world record for any female artist. "Ram's Head, White Hollyhock and Little Hills" (above) was painted in New Mexico USA in 1935.
Closed on Tuesdays. Open 11:00 – 9:00 (21:00). Metro #11 to Rambuteau, or Metro # 1 to Hôtel de Ville.
Art Lovers Tips: Enjoy the view from the top of the Pompidou.
5. Musée Marmottan Monet
Paintings by Peder Krøyer on view in 2021 included "Bateaux de Peche" from 1884 (top row), "Roses" (above left) and "Summer Afternoon on the South Beach at Skagen" (above right), both from 1893.
The Marmottan Museum rounds out our picks for the Top 5 museums in Paris due to the strength and depth of its permanent collection, plus its ability to mount one refreshing temporary show after another. A perfect example is "THE BLUE HOUR of Peder Severin Krøyer" which was on view from January 28 – September 26, 2021. Krøyer was a Danish landscape painter and portraitist known for capturing on canvas the "blue hour" (a meteorological phenomenon preceding twilight, visible only from the northernmost seashores). The Marmottan's current exhibition entitled "Julie Manet" may be seen by the public from October 19, 2021 through March 20, 2022. Julie Manet was a painter and the only child of Berthe Morisot and Eugene Manet, younger brother of painter Edouard Manet. The following exhibit "Emotions" — scheduled to open from April 12 until August 21, 2022 — will explore the history of expressing emotions through painting.
Please go see the special exhibition and permanent collection, and let us know your opinion. The good fortune of possessing the largest collection of paintings by the greatest Impressionist — Claude Monet — within a lovely building in the leafy 16th arrondissement should not be underestimated. The Marmottan is a gem!
Closed on Mondays. Open 10:00 – 6:00 (18:00). Open 10:00 – 9:00 (21:00) on Thursdays. Metro #9 to La Muette.
Art Lovers Tips: Michel Monet (Claude's son) gave his personal collection of his father's paintings to the Marmottan. The Musee Marmottan now owns about 100 Monets, including many large paintings inspired by the artist's garden at Giverny 45 miles (75 km) from Paris. You may visit Claude Monet's home and garden at Giverny from the end of March through the end of October.
Below: The l'Orangerie, Eiffel Tower & Grand Palais as seen from the Tuileries Gardens.
6. Musée National de l'Orangerie des Tuileries
The l'Orangerie is located smack in the center of it all, with the Louvre on one side, the d'Orsay across the river Seine, and the Place de la Concorde/Grand Palais to the other side. Located within the Tuileries Gardens, the l'Orangerie is a sentimental favorite for art lovers thanks to Claude Monet's gift to the City of Paris: 2 spectacular oval rooms containing 8 panels of water lilies measuring nearly 300 feet in length (91 meters long), a small detail of which is shown in the photo below. The 1852 building originally stored citrus trees during winter. In 1921, when the State decided to use the building for fine arts, Monet was already at work on a series of paintings entitled "Nymphéas" destined for the Rodin Museum. The plan was changed and Monet assisted in the design of these 2 rooms, lit by natural light.
The museum opened in 1927, a few months after Monet's death, and now also houses fine works (below) by Picasso, Renoir, Cézanne and various Impressionists.
Currently, the exhibition "David Hockney — A Year in Normandy" (below) is on view from October 13, 2021 to February 14, 2022 at the l'Orangerie.
Closed on Tuesdays. Open Wednesday to Monday 9:00 – 6:00 (18:00). Last admission at 5:15 (17:15). Metro # 1 and # 8 to Concorde.
Art Lovers Tips: Many of you will consider your visit here an unforgettable highlight of Paris. Leave extra time to return to the Monet rooms to think about your life and what you hope to accomplish — this is a special space for contemplation. We suggest you come here first if you wish to buy a Combined Ticket for the l'Orangerie and the Musée d'Orsay.
7. Musée du Quai Branly – Jacques Chirac
Located near the Eiffel Tower, the Quai Branly Museum has a collection of over one million objects from Africa, the Americas, Asia, and Oceania; 3,500 are on display. If you want to take a break from European art and try something different, come here. The exterior of the Quai Branly is alive with plants clinging to the walls, while the interior exudes a unique feeling – a contemplative calm – completely different from most museums. If you give this museum a chance it will win you over, and other museums will feel generic (like a Shopping Mall) by comparison. The focus here is on discovering ancient artifacts and art, beautifully lit along winding paths, set against a dramatically dark background. You should visit the museum between October 19, 2021 and January 9, 2022 to view the special exhibition "Maroʻura, A Polynesian Treasure". From December 14, 2021 through April 10, 2022 one may see more than 150 works of art from Southwest Congo in a show entitled "A SHARE OF THE SHADOW", highlighting the region of Bandundu renowned for its masks associated with Mukanda initiatory rites and wooden statuary.
Closed on Mondays. Open Tuesday, Wednesday & Sunday 11:00 – 7:00 (19:00). Open Thursday, Friday & Saturday 11:00 – 9:00 (21:00). Metro # 9 to Alma-Marceau, or # 6 to Bir Hakeim.
Art Lovers Tips: Stop in Le Café Jacques or, better yet, reserve a table in Les Ombres Restaurant and enjoy a special Eiffel Tower view.
8. Musée Rodin
The Rodin Museum maximizes the world's largest collection of Auguste Rodin's sculpture by using the lovely gardens surrounding the Hôtel Biron, which the artist used as his workshop from 1908 until his death (1917). The Hôtel became a museum in 1919. Rodin donated his entire sculpture collection and the Impressionist paintings he owned to the French State on the condition that the Hôtel Biron in Paris and the building where he resided (in Meudon, 9 km away) would become museums dedicated to his body of work. We stopped in the museum recently to view the exhibition "Picasso-Rodin" which will close on January 2, 2022. Unfortunately, we found the gardens in need of sprucing up, and the outdoor sculptures should be cleaned and better maintained. Please share with us your opinions on the Rodin Museum.
Closed on Mondays. Open Tuesday – Sunday 10:00 – 6:30 (18:30). Metro #13 to Varenne, or #8 to Invalides.
Art Lovers Tips: Do not visit on a rainy day. Come to the Musée Rodin on a sunny day when the gardens and the view of Les Invalides may be fully appreciated.
Below: Exterior view of the Fondation Vuitton.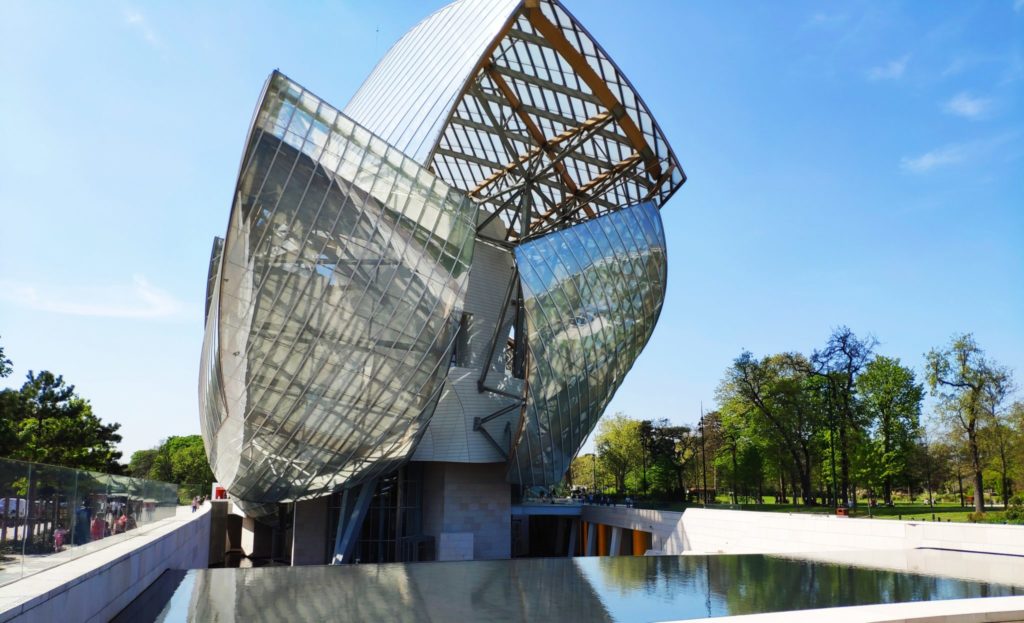 9. Fondation Louis Vuitton
The Fondation Vuitton is a museum and cultural center designed by Frank Gehry adjacent to the Jardin d'Acclimatation in the Bois de Boulogne. The project was initially projected to cost 100 million euros; however, the final figure is estimated to be more than 780 million euros (with over 600 million euros coming from the French government). While the permanent collection is predictable and uninspired, the temporary exhibitions have been exceptionally strong. Masterpieces from the collection of Ivan Morozov (1871-1921) and his brother Mikhail (1870-1903) are on display in the much-anticipated "The Morozov Collection: Icons of Modern Art" from September 22, 2021 to February 22, 2022, including "The Window, Tiraspol" (below) painted in 1909 by Mikhail Larionov. The brothers Morozov were patrons of the arts in Moscow who amassed an exceptional collection of Russian and French modern art from the early 20th Century.
"Lake Ruovesi" (above) was painted by Akseli Gallen-Kallela in 1909. For the Paris World Fair of 1900, Gallen-Kallela (1865 — 1931) created frescoes for the Pavilion of Finland, securing his stature as the leading Finnish artist of his era. The Morozov Collection possesses the finest holdings of French Impressionism and especially Modernism, such as "Entrance to the Kasbah" (below left) and "Zorah on the Terrace" (below right) completed between 1912 and 1913 in Tangier during one of Henri Matisse's stays in Morocco, as well as a decorative triptych (bottom) by Pierre Bonnard.
The Vuitton's interesting architectural elements are open to interpretation, and opinions have varied. Christopher Hawthorne (LA Times) said "The design is brilliant, a late-career triumph" for Gehry; but Paul Goldberger's description in Vanity Fair came closer to the truth: the Vuitton "looks like sails, and it looks like a boat, and it looks like a whale, and it looks like a crystal palace that is in the middle of an explosion". You should visit and judge for yourself.
Art Lovers Tips: Please note, the Fondation is not particularly attractive in cold weather. Visit on a warm, sunny day to enjoy the Vuitton and surroundings at their best. Check the Fondation Louis Vuitton official website for transportation options and Opening Hours, especially during exhibitions. Metro #1 to Les Sablons + 15-minute walk.
10. Musée du Luxembourg
The Luxembourg was the first French museum opened to the public (in 1750) and it is blessed by its surroundings: inside the Luxembourg Gardens in the Latin Quarter. This small museum provides one of the best Parisian venues for temporary exhibitions. You may see photos (above right and below) by Vivian Maier, the American street photographer, from September 15, 2021 until January 16, 2022.
Open every day from 10:30 – 7:00 (19:00). Open late on Mondays from 10:30 – 10:00 (22:00). Metro #4 to Saint Sulpice, or Metro #10 to Mabillon.
In 2022, from March 2 through July 10, the Luxemburg Museum will be presenting "PIONNIÈRES: Artistes d'un nouveau genre dans le Paris des années folles," an exhibition highlighting the influential role of women in the development of new genres in sculpture, photography, painting, textile and film from the end of the 19th Century through the Roaring Twenties.
Art Lovers Tips: When you arrive by Metro, you may choose to stop at Rue Guisarde, 6 for ice cream at "Amorino," which opens at 12:30, and then pass through the Place Saint-Sulpice with its unique church built in 1754 — where the murderous monk Silas found a clue in his search for the Holy Grail in Dan Brown's The Da Vinci Code. After your visit to the Luxembourg museum, stroll in the Gardens and sit in one of the chairs near the Medici Fountain (pictured below) which was built around 1630 then moved to its present location in 1864.
Of course, there are more than 10 great museums in Paris. Here are 5 more to check out:
11. Musée d'Art moderne de la Ville de Paris
12. Musée national des Arts asiatiques – Guimet
13. Musée Nissim de Camondo
14. Institut du monde arabe
15. Musée Jacquemart-André
From September 10, 2021 to January 24, 2022, a small, high-quality exhibition entitled "Botticelli" is on view at the Jacquemart-André Museum, where you may see the Italian painter's Virgin and Infant (below left) and Crucifix.
QUESTION: What is the most famous museum that did not make our list of the 10 best museums in Paris?
ANSWER: Musée National Picasso – Paris. This Museum is currently very poorly administered. There are too few paintings by Picasso on display, in our opinion, and we do not want you to be disappointed.
What do you think about this article on Paris museums? Your feedback will assist us in providing more focused content for you in future articles. Your comments are encouraged and most welcome, and feel free to share our blog with your friends on Facebook, Twitter, Instagram and similar platforms!