Previous Exhibitions at the Musée d'Orsay
We put together this article for those of you who missed seeing interesting exhibitions during recent years at one of your favorite museums: the Musée d'Orsay. Our hope is that you will enjoy seeing some of these images from Paris even though the works of art are no longer on public display.
Past exhibitions you will find in this article include:
Through January 22, 2023, A Norwegian (Edvard Munch) in Paris
From September 20, 2022 through January 22, 2023, the d'Orsay presented "Edvard Munch: A Poem of Love, Life and Death" — a major exhibition organized in collaboration with the Munch Museum in Oslo. Featuring about 100 works of art, this large-scale presentation covered the Norwegian artist's entire career: drawings, prints, engravings and paintings.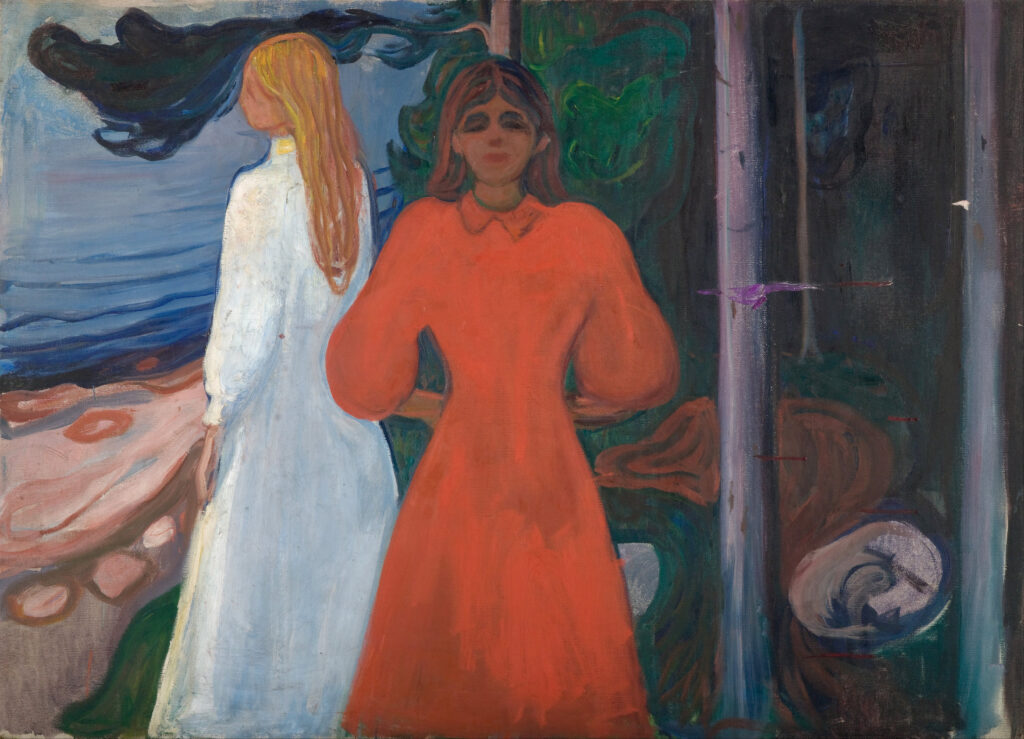 Paul Signac (1863 — 1935)
Pointillism in the Musée d'Orsay
A top-notch temporary exhibition "Signac the Collector" was shown from October 12, 2021 to February 13, 2022. Paul Signac was a Neo-Impressionist painter who worked with Georges Seurat to advance the movement known as Pointillism.
Paul Signac painted Route de Gennevilliers (above) in 1883 when he was 20 years old and an admirer of Monet and Impressionism. Signac met Georges Seurat the following year at the first Salon des Artistes Indépendants. These two artists had a shared interest in contemporary scientific theses on how the human eye perceives color. When Seurat finished A Sunday Afternoon on the Island of La Grande Jatte in 1886 by punctuating the painting with small dots of pure color, Signac became a convert to the new style of Neo-Impressionism. Five years later, Signac became the leader of the Pointillist movement — when Seurat (1859 — 1891) died unexpectedly — and Signac created works such as Saint-Tropez, La Bouée Rouge (below) in 1895.
Signac was at the heart of the contemporary art scene in Paris from the 1880s until his death in 1935. He organized many exhibitions, amassed a personal collection of paintings by other artists and embraced other innovative movements, such as Fauvism (1905 — 1910) which emphasized strong color over the more realistic, representational values achieved through Impressionism. As he aged, Signac took a close interest in and supported a younger generation of artists, purchasing, for example, the portrait of the Romanian transvestite renowned for his high voice entitled Modjesko, Soprano (above) by Kees van Dongen. Théo van Rysselberghe presented his Portrait of Paul Signac (below left) to Signac as a gift following a sailing trip. Signac owned more than 80 works of art by Seurat, including Seurat's Portrait of Paul Signac (below right).
James McNeill Whistler
An American in Paris
A very small display featuring works of art by James McNeill Whistler (1834 — 1903) was on view from February 8 through May 8, 2022 at the d'Orsay. The Frick Collection in New York sent three full-length portraits, 12 etchings, three pastels and the painting known as "The Ocean" (below) to Paris to highlight this special show.
Several masterpieces (above) from the Frick Collection were exhibited alongside holdings from the collection of the d'Orsay: namely, "Variations in Violet and Green" (below left) and Whistler's most famous creation "Gray and Black Arrangement No. 1: The Artist's Mother" (below right), both painted in 1871.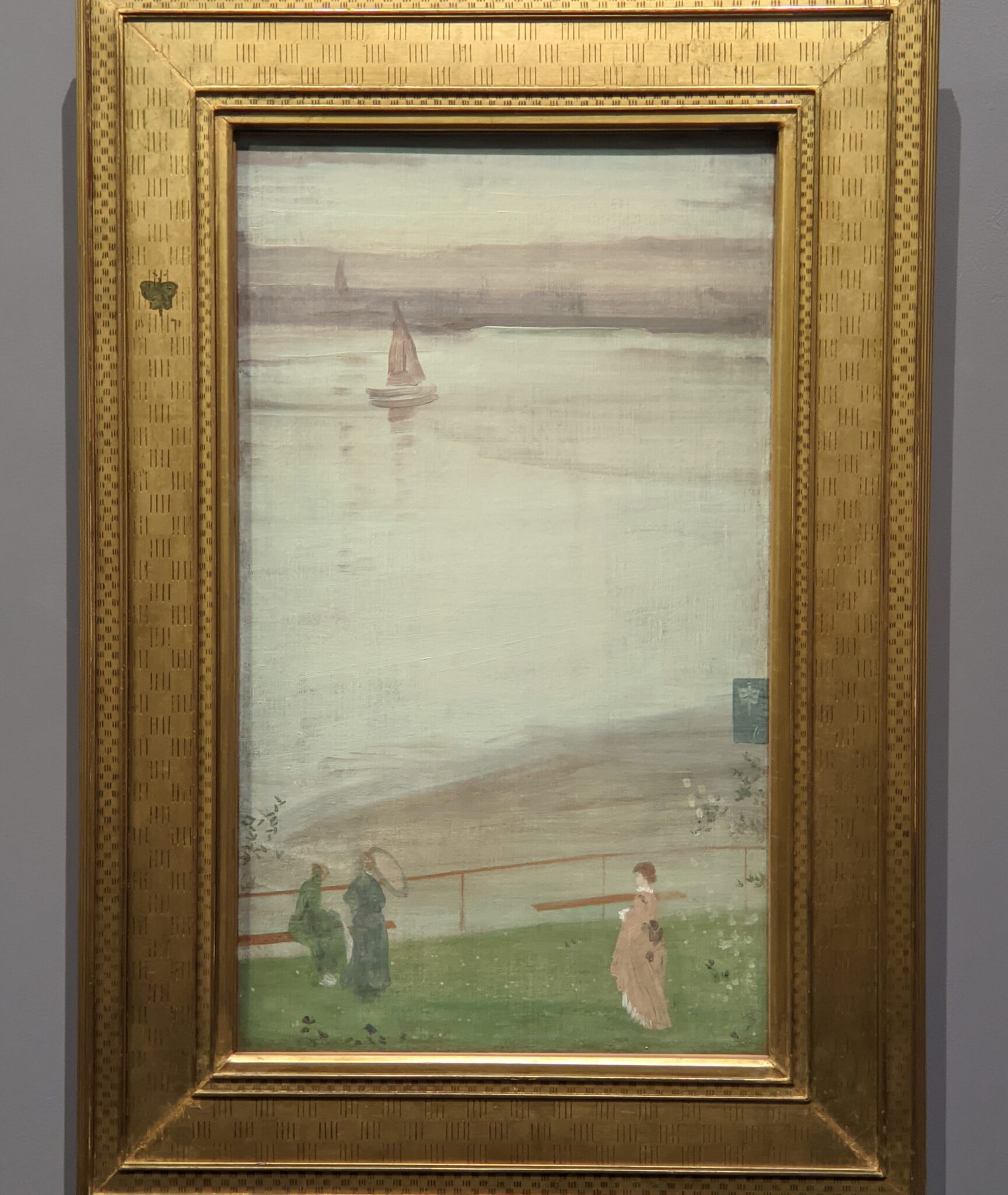 Photographs Taken by Emile Zola
Another intimate exhibit on view through June 1, 2022 was entitled "Happy Years. Denise photographed by her father Emile Zola."
Among the curious memorabilia we found a lovely quotation from 1931 by Denise Le Blond Zola, "My father took photographs with the same passion he devoted to everything. We therefore have living memories of our private life."
Through July 17, 2022 Antoni Gaudí
From April 12 to July 17, 2022 the d'Orsay presented an important exhibition entitled "Gaudí" — the first major show in France in over 50 years dedicated to the Catalan architect Antoni Gaudí. This exhibit was organized through cooperation with the Museu Nacional d'Art de Catalunya in Barcelona (where it was presented between November 18, 2021 and March 6, 2022). Visitors gained insight into Gaudi's creative process, from the building materials and designs (below) fabricated in his workshop to the furniture and functional objects d'art created to decorate the interiors of the palaces, apartments and churches he created, including the Basilica of the Sagrada Familia in Barcelona (photograph of the Nativity Facade, above).
"Finally the cinema! Arts, Images and Shows in France (1833-1907)"
The exhibition Finally the cinema! — which closed on January 16, 2022 — examined the dialog between the development of cinematographic images and the history of painting in France from the years 1895-1907. This exhibition brought together nearly 300 works of art (pictured below), including films, objects, and paintings which were influential in the production of movies.
Edgar Degas (1834-1917)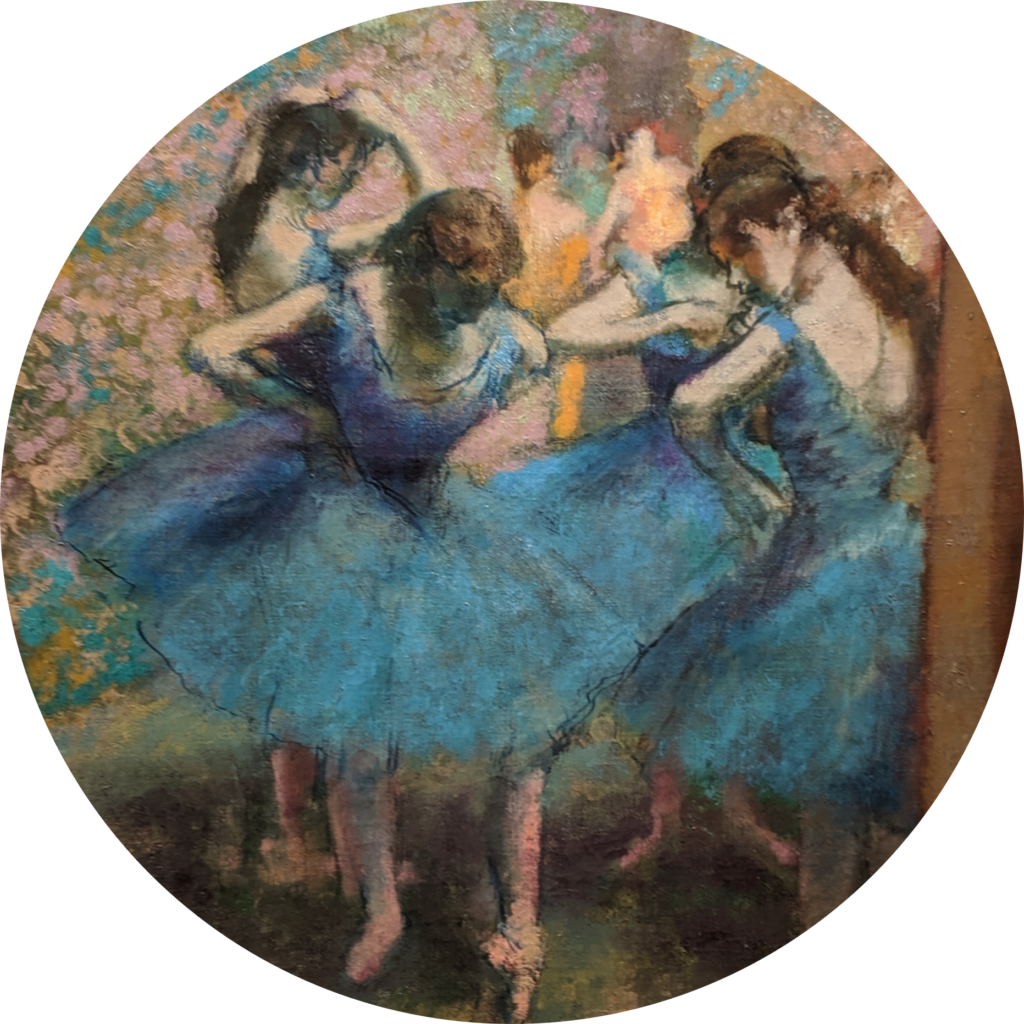 Celebrating 350 Years of the Parisian Opéra
More than 50% of Degas' output as a painter focused on women and the Opéra. For Degas, the Opéra was a small, closed world brimming with potential for experimentation, where he was able to study the beauty, difficulty, precision and pain of human motion from multiple points of view. His paintings explored Parisian dance studios, foyers and boxes, as well as the orchestral musicians, dancers, singers and members of the audience who inhabited the stage and the auditorium. After viewing this exhibition we concluded it is justified to place Degas among the great painters of light. He brilliantly recorded movement beneath contrasts in lighting and simultaneously captured a microcosm of French culture during the late 19th Century.
Edgar Degas referred to the Opéra de Paris as "my own room." The Paris Opéra has inspired artists since its founding as the Académie d'Opéra in 1669 by Louis XIV. Soon after it was renamed the Académie Royale de Musique and today it is called the Opéra national de Paris, though simply known as "the Opéra."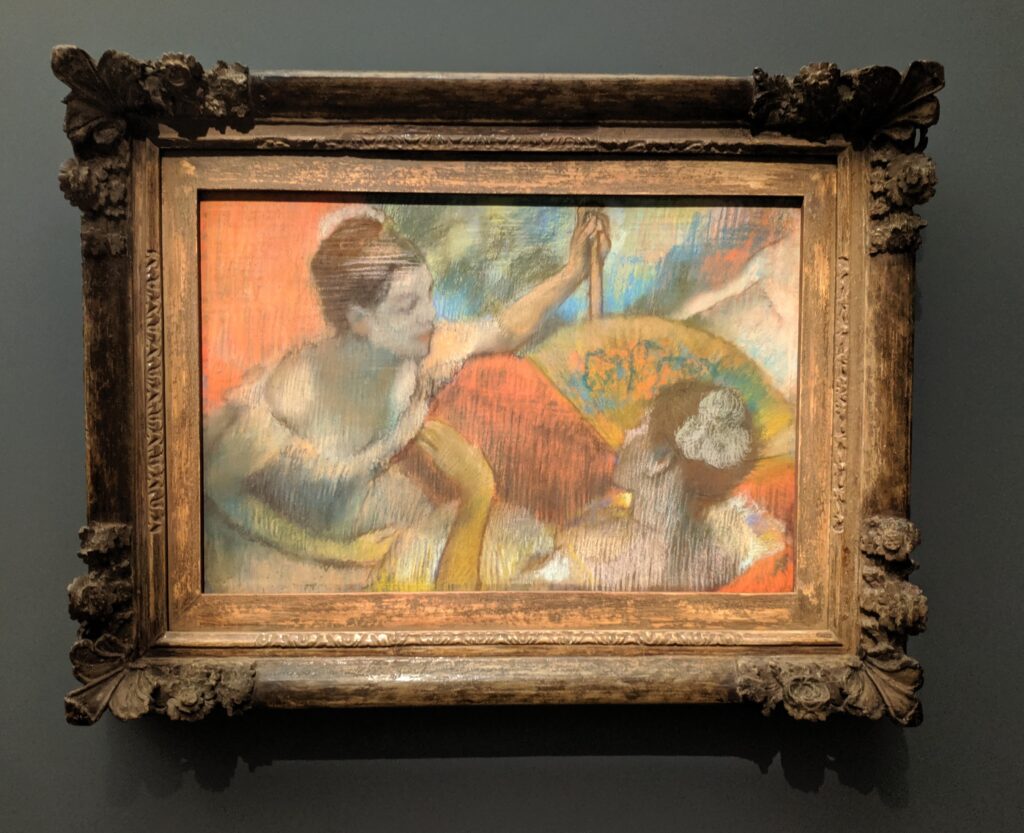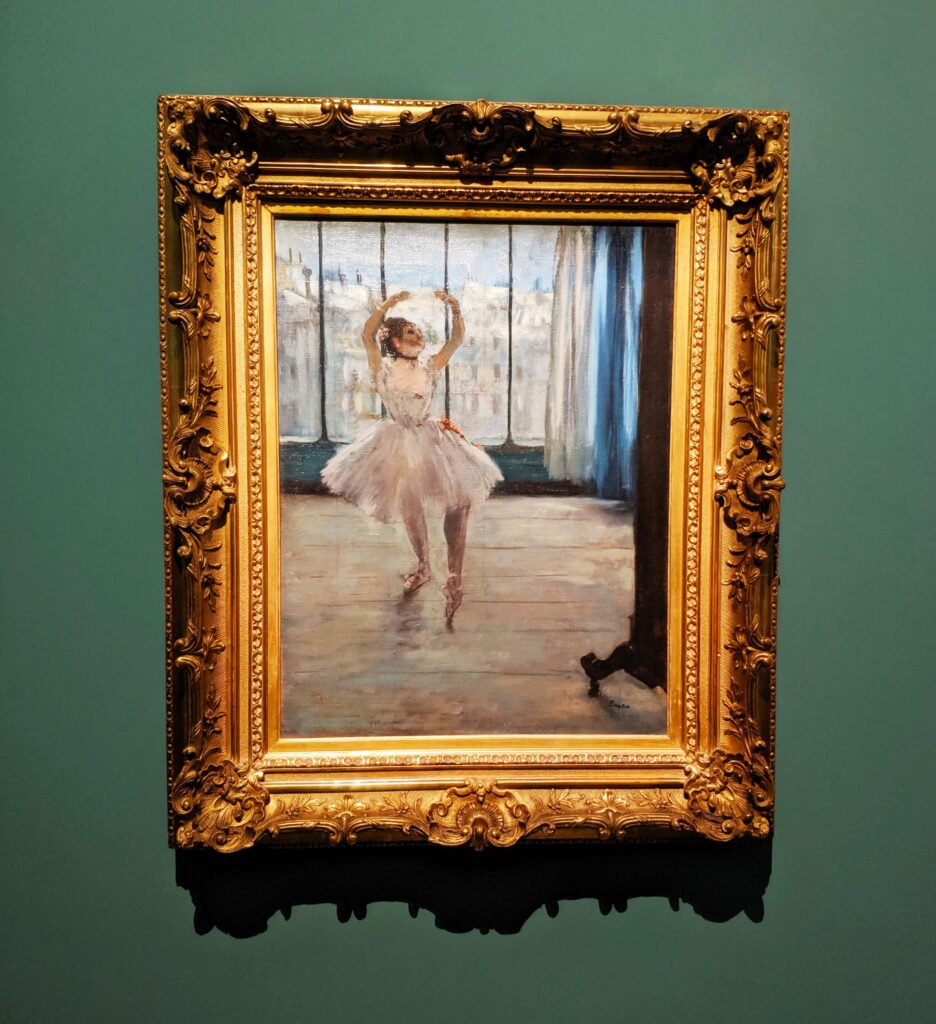 If you want to learn what is currently on view at the Musée d'Orsay and other museums in Paris please read our article: Paris — The 10 Best Art Museums.
We hope you enjoyed seeing images from previous exhibitions. You may also be interested in our articles entitled "The Best Past Exhibits at the Grand Palais & Petit Palais" and "Great Exhibitions from the Past at the Pompidou Centre".