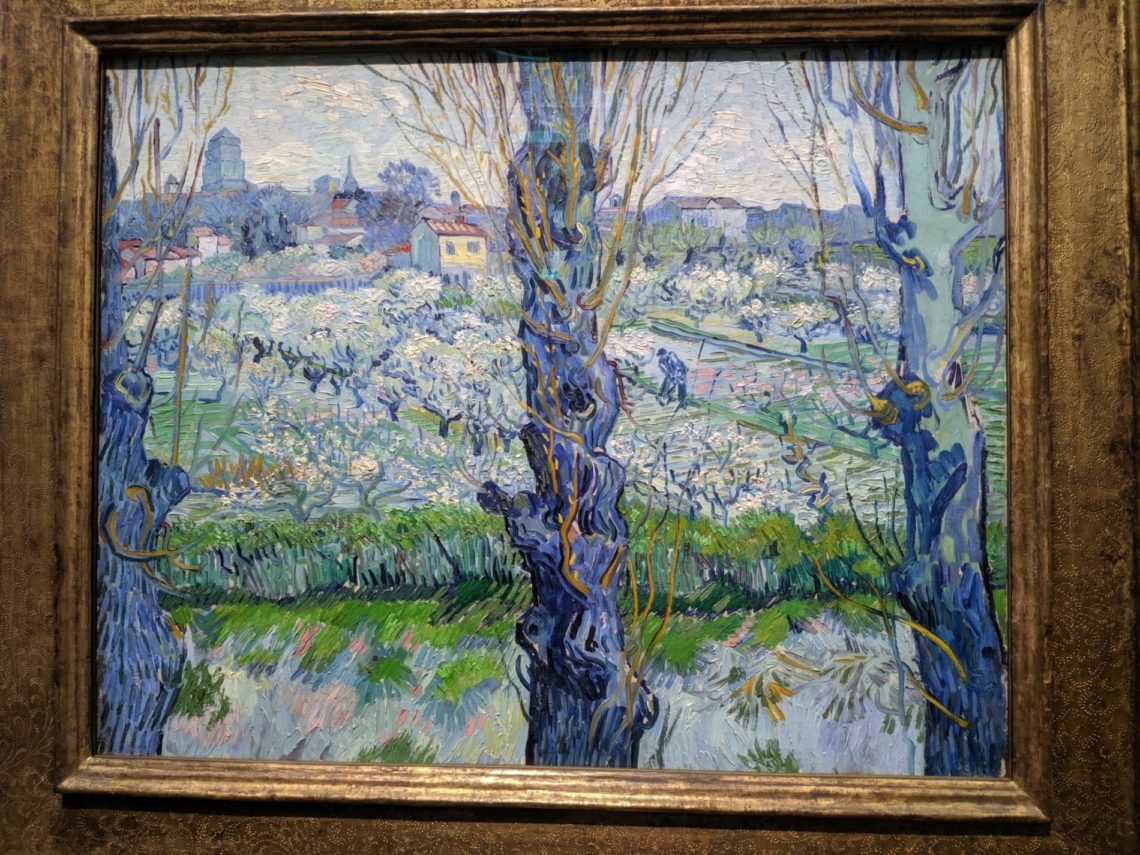 Van Gogh — Vincent's Influence in Germany
Based on the trailblazing exhibition entitled "Making Van Gogh" which was on view at the Städel Museum from October 23, 2019 through February 16, 2020, we feel it is justified to refer to Vincent van Gogh as the "Father of Expressionism." Without a doubt, this spectacular presentation of 50 paintings (and additional works on paper) by Van Gogh goes even further, making a plausible argument that the Dutchman whose art career lasted no more than one decade should be recognized as a most influential figure in the development of German modern art.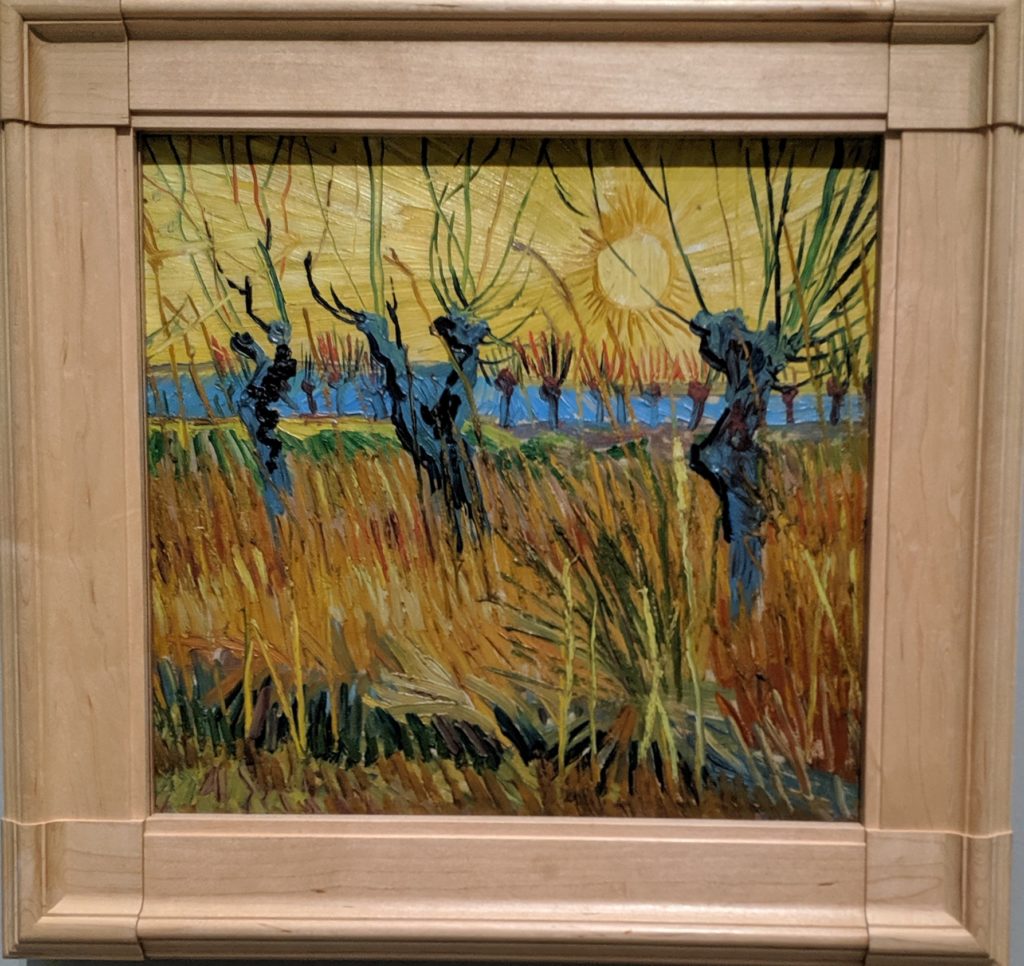 Van Gogh's "Pollard Willows at Sunset" (above left), Städel Museum (center) & Frankfurt's Altstadt (right)
The city of Frankfurt is often described in unflattering terms. "Frommer's Germany," the popular travel guide, states: "Many travelers get their first introduction to Germany in this city because Frankfurt airport serves as the country's main international hub. And that's a shame, because although there are cultural and financial riches here, the city itself is not particularly memorable."
View of the river Main from Frankfurt's Städel Museum.
We respectfully disagree with Frommer's, and with other negative media outlets that give Frankfurt a bad name. "Making Van Gogh" ranked among the best art shows presented in Europe prior to the pandemic and the Städel, perfectly situated on the banks of the river Main alongside a row of poplar trees, was historically-speaking the most fitting institution to host such a groundbreaking exhibit.
Poplar trees in front of the Städel Museum (left) & Van Gogh's "The Parsonage Garden at Neunen in Winter"
This remarkable show begins as one would expect with two typical works of art created in 1884 by Vincent van Gogh: "The Parsonage Garden at Neunen in Winter" (above right) from the Szepmuveszeti Muzeum in Budapest, and "Potato Planting" (below) from the von der Heydt-Museum, Wuppertal. By February 1886, Vincent left the Netherlands and Belgium to move into the Paris apartment of his brother, Theo. Since Theo worked as an art dealer, Vincent was quickly introduced to younger members of various avant-garde movements such as the Pointillists led by Georges Seurat and Paul Signac, the Cloisonnists (Émile Bernard, Paul Sérusier and Paul Gauguin), the established Impressionist painters Camille Pissarro and Armand Guillaumin, and notables such as Henri de Toulouse-Lautrec who became Vincent's good friend.
"Potato Planting" 1884 by Vincent van Gogh
Van Gogh's Years in Paris
During his transformative two years in Paris, Van Gogh exchanged his darkly brooding palette for more experimental styles. Though customary for aspiring artists to become the pupil of a successful painter, Van Gogh learned primarily from the other artists he met and befriended. For some painters from the vanguard, like Émile Bernard, Van Gogh became a father figure. "When he emerged from the back shop," Bernard wrote, "with his high, broad forehead, he was so striking I was almost frightened; but we soon made friends." Van Gogh found Parisian life hectic and, at the beginning of 1888, headed south to Arles. Though he missed his intellectual contacts with artistic friends, Van Gogh's time in the South of France led to a unique style characterized by strong outlines, portraits with psychological depth, painterly brushstrokes, and bold, expressive colors. The exhibition "Making Van Gogh" took the viewer from the familiar Van Gogh experience — i.e., showing Vincent's paintings exclusively among French art — to a more original visual journey: the exploration of Vincent van Gogh's legacy and his impact on German Expressionism and Modernism.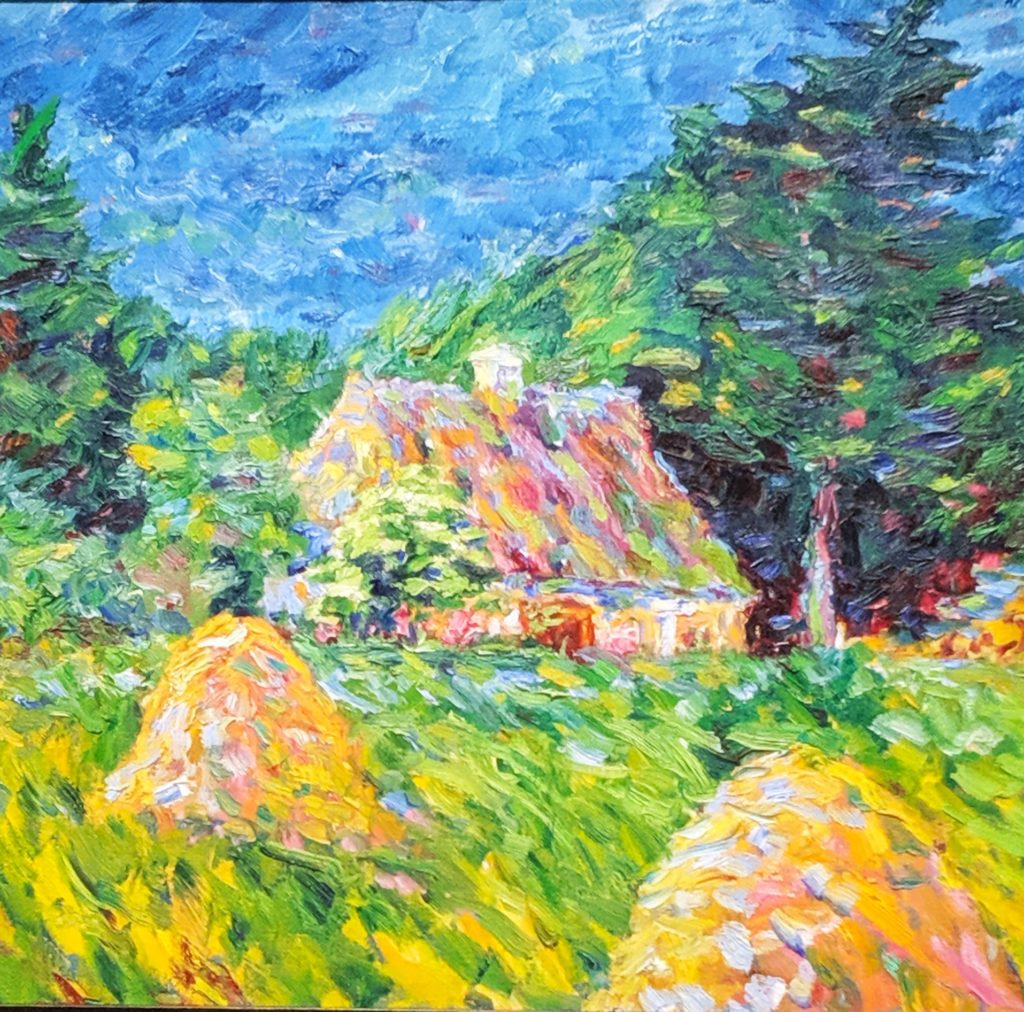 Van Gogh & Die Brücke
Members of Die Brücke (The Bridge), an association of painters formed in 1905 in Dresden, were fascinated by Van Gogh's motifs, which they adopted, and felt Vincent's technique of applying thick layers of pure hues directly from the tube onto the canvas empowered each artist with direct access to his subject matter. In the 1880s, when Van Gogh taught himself to paint, art academies instructed painters to never leave visible brushstrokes on the canvas. Just as Van Gogh had broken the conventions of his day, the standards of painting taught in German academies were rejected by members of Die Brücke: Karl Schmidt-Rottluff, Ernst Ludwig Kirchner, Erich Heckel, Max Pechstein, Emil Nolde and Otto Mueller.
Having seen Vincent's original paintings in a Dresden exhibition, members of Die Brücke felt liberated to simplify their forms and apply strong, contrasting colors to their canvases. The founding members were so inspired by Van Gogh that Emil Nolde jokingly suggested that they should call themselves "Van Goghiana" instead of Die Brücke.
"Woman from Murnau," Gabriele Münter's 1909 portrait of Rosalia Leiss (above left) & an 1888 portrait of Lieutenant Milliet entitled "The Lover" by Van Gogh
In 1908, the Städel became one of the first museums to purchase works by Van Gogh, acquiring two pieces. By 1911, the painters in Die Brücke had gone their individual ways, but the work of Van Gogh continued to cause a sensation beyond Dresden and Berlin, and Vincent's 1890 "Portrait of Dr. Gachet" entered the Städel's collection. 20 years after his death, Van Gogh represented both an inspiration for a new generation of young German artists such as Gabriele Münter (whose portraits presented introspective figures within bold outlines, like Van Gogh's) and a revelation for immigrant painters entering the German art world.
"Village in Bavaria" 1907 by Alexej von Jawlensky (above left) & "Harvest in Provence" 1888 by Van Gogh
Van Gogh & Der Blaue Reiter
Emigrants to Germany, including Marianne von Werefkin, Alexej von Jawlensky and Wassily Kandinsky from Russia, worked with Münter and other German artists to form Der Blaue Reiter (The Blue Rider) group, active in Munich from 1911 — 1914. Jawlensky and Kandinsky found inspiration in Vincent's frequent use of shorter and longer brushstrokes and in his emphasis on direction in his brushwork.
"Vegetable Fields" 1911 by August Macke (left) & "White Cottages at Saintes-Maries" 1888 by Van Gogh
This exhibition united 50 Van Gogh paintings with 70 works by artists who lived in Germany during the first half of the 20th Century. "Vegetable Fields" (above left) by August Macke, a member of Der Blaue Reiter, shows pathways intersecting diagonally — a motif used by Vincent in his landscapes created in Arles and Auvers-sur-Oise.
Just as Pechstein, Nolde, Heckel and Schmidt-Rottluff in Der Brücke had admired the well-ordered underlying structure in Van Gogh's body of work, and his methodical pastose application of paint, the Städel's show demonstrated how artists from Der Blaue Reiter such as Macke, Münter, Kandinsky and Franz Marc learned from Vincent's rhythmic distribution of color.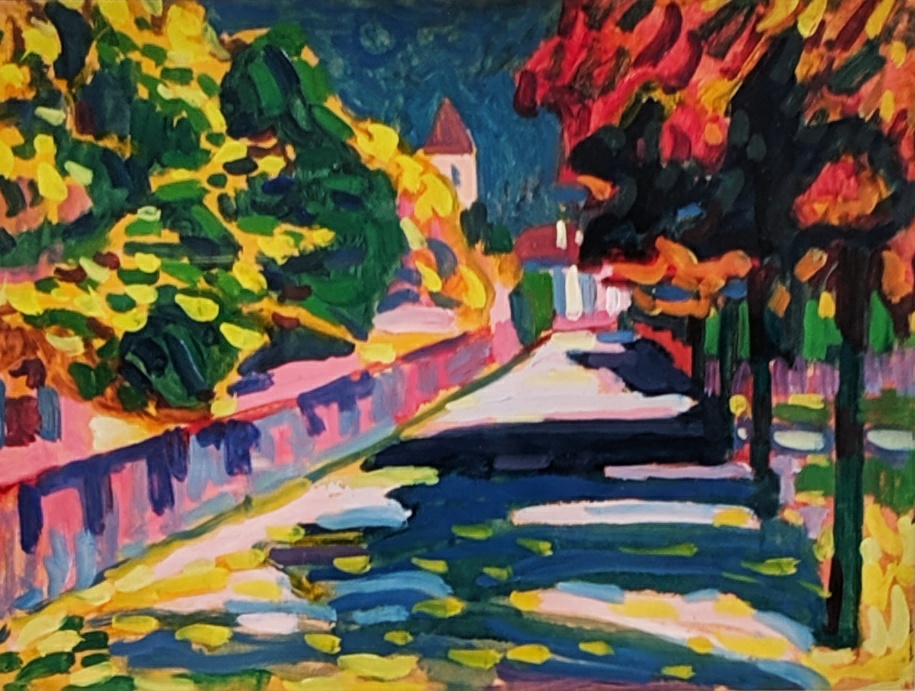 "Autumn in Bavaria" 1908 by Wassily Kandinsky (above left) & an 1887 "Self-Portrait" by Van Gogh
Additional fine works by Paula Modersohn-Becker, Otto Dix and Max Beckmann attested to the profound influence of Van Gogh, who died on July 29, 1890. In Germany, his paintings and life story captivated long-lasting public interest and, by 1914, about 150 of his works were in public and private German art collections.
Young painters in France and Germany looked up to Vincent. In a letter dated August 2, 1890, Émile Bernard wrote, "Our dear friend Vincent died four days ago. He finally died on Monday evening, still smoking his pipe which he refused to let go of, explaining that his suicide had been absolutely deliberate and that he had done it in complete lucidity. You know how much I loved him and you can imagine how much I wept."
"Tower in the Park" 1910 by Karl Schmidt-Rottluff (above left) & "Alley near Arles" 1888 by Van Gogh
With Van Gogh's "Self Portrait" on loan from the Art Institute of Chicago, numerous paintings from the Kröller-Müller Museum in Otterlo, and fine art from the best collections in Germany, this exhibit was an especially rare opportunity to appreciate the significance of Van Gogh in the rich context of German art history.
Current & Upcoming Exhibitions at the Städel Museum
Through March 5, 2023, the Städel Museum is showing drawings, etchings and paintings by Guido Reni, one of the most influential artists of the Italian Baroque.
From May 24 through September 17, 2023 an exhibit entitled "OUTSTANDING! — The Relief from Rodin to Picasso" will examine how reliefs created between 1800 and the 1960s transcended the boundaries between sculpture and painting.
On November 2, 2023, the Städel will open the much-anticipated "RENAISSANCE — The Northern Side" in collaboration with the Kunsthistorisches Museum in Vienna. This show will bring together significant works of art by Hans Holbein the Elder and Hans Burgkmair the Elder, along with other Augsburg-based artists, plus greats such as Dürer, Solario and Van der Goes. These works of art created between 1480 and 1531 will be on view in Frankfurt through February 18, 2024.
Vincent van Gogh Exhibition in Rome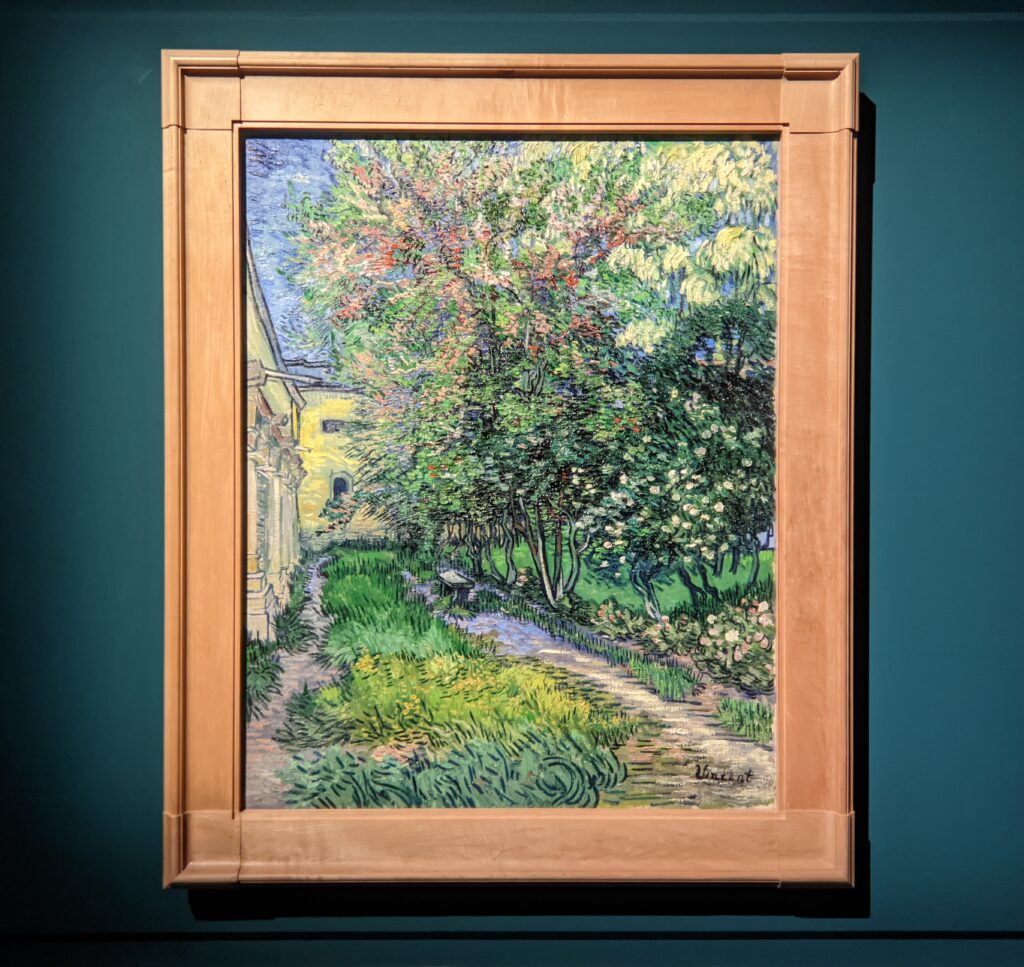 For insights into the Vincent van Gogh exhibition currently on view in Italy through March 26, 2023, please check out our article entitled "Excellent Van Gogh Paintings & the Beautiful Colors of Rome"